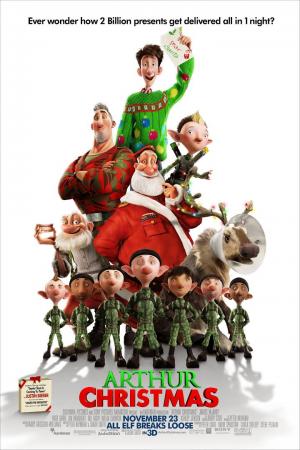 The City of Mount Vernon presents their annual free holiday screening courtesy of Ken's Hairstyling and the Mount Vernon Downtown Association. Stay after the film for the Old Fashioned Christmas Parade and Tree-Lighting at 5:00 pm
The animated family comedy Arthur Christmas, an Aardman production for Sony Pictures Animation, at last reveals the incredible, never-before seen answer to every child's question: 'So how does Santa deliver all those presents in one night?' The answer: Santa's exhilarating, ultra-high-tech operation hidden beneath the North Pole. But at the heart of the film is a story with the ingredients of a Christmas classic - a family in a state of comic dysfunction and an unlikely hero, Arthur, with an urgent mission that must be completed before Christmas morning dawns.
Directed By: Sarah Smith and Barry Cook
Cast: James McAvoy, Hugh Laurie, Bill Nighy, Jim Broadbent, Imelda Staunton, and Ashley Jensen.
What the critics are saying:
Certified Fresh on Rotten Tomatoes
"Aardman Animations broadens their humor a bit for Arthur Christmas, a clever and earnest holiday film with surprising emotional strength."
Scott Marks, San Diego Reader
"This witty, handsomely appointed 3-D animated feature is the most delightful Santa biopic since Edmund Gwenn donned the fat suit."
James Berardinelli, ReelViews
"With a clever script that successfully updates many Christmas myths and dialogue that crackles with sophisticated wit, this movie offers the kind of pre-holiday experience that parents and children alike will appreciate."
This event is free courtesy of