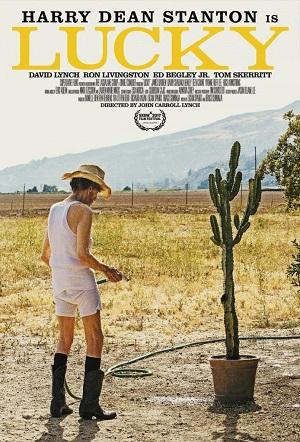 Saturday, Nov 25, 7:30 pm
Lucky follows the spiritual journey of a 90-year-old atheist and the quirky characters that inhabit his off the map desert town. Having out lived and out smoked all of his contemporaries, the fiercely independent Lucky (Harry Dean Stanton) finds himself at the precipice of life, thrust into a journey of self exploration, leading towards that which is so often unattainable: enlightenment.
Starring: Barry Shabaka Henley, Beth Grant, David Lynch, Ed Begley Jr., Harry Dean Stanton, Hugo Armstrong, James Darren, Ron Livingston, Tom Skerritt, and Yvonne Huff
Director: John Carroll Lynch
San Francisco Chronicle - Walter Addiego
A couple of other odd moments to savor: Lucky, seeking a crossword answer, reads a dictionary definition of "realism" that's perfectly to the point. And listen as he plays "Red River Valley" on the harmonica. Either one is a great way to remember Harry Dean Stanton. 
The Playlist - Kyle Kohner
Lucky is a film perfectly nuanced for Stanton but executed in its full potential by none other — it's a sobering portrait dedicated to one of cinema's greatest actors. 
Variety - Joe Leydon
Everything Harry Dean Stanton has done in his career, and his life, has brought him to his moment of triumph in "Lucky," an unassumingly wonderful little film about nothing in particular and everything that's important.
Lincoln Theatre Members get a $2 discount on the following prices:
General: $10.50
Seniors, Students and Active Military: $9.50
Children 12 and under: $8.00
Sunday Bargain Prices:
General: $9.00
Children 12 and under: $7.50
Add $2.00 to the above prices for 3D screenings
All prices include a $1.50 Preservation Fee that goes directly into our capital account for preservation of the Lincoln Theatre and its programs. 
 
Members have benefits: Click here for details.
Film dates and times are subject to change and extended runs. Please check back here, or our phone message at 360.336.8955, day of show.