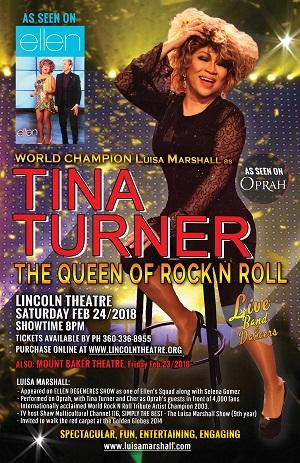 Saturday, February 24, 2018 - 8:00pm
Advance Reserved Seating Tickets: $49 1st section; $39 2nd section; $29 3rd section + applicable fees.
Luisa Marshall as Tina Turner "THE QUEEN OF ROCK N ROLL"
Presented by: Simply The Best Talent
As seen on Oprah and ELLEN - World Rock N Roll Tribute Artist Champion Luisa Marshall brings her spectacular show with her band and dancers to The Historic Lincoln Theatre.  Her uncanny resemblance to Tina Turner paved the way for her world class tribute act with rave reviews and standing ovations all over the world.
Luisa has been on Oprah twice, and lately made an appearance on Ellen which received an incredible 26-second standing ovation. Luisa was also invited to walk on the Red Carpet at the 2014 Golden Globe Awards.  
Remember Tina's Hits - "Proud Mary", "Simply the Best", "What's Love Got to Do With It", "Nutbush City Limits", "We Don't Need Another Hero", "Private Dancer", "Steamy Windows", "Addicted To Love", "A Fool In Love", "Better Be Good To Me", "Land of 1000 Dances", "Let's Stay Together", "River Deep Mountain High" and much more...
This show is super fun, rockin' and engaging. Luisa also surprises the audience as she pays tribute as Tina to some of her favorite Divas Shania Twain, Lady Gaga, Amy Winehouse, Etta James to name a few.
Get ready with your cellphones because you or someone you know may end up dancing on stage.
Check the links below to view Luisa on ELLEN and samples of her shows:
Click to see Luisa's experience on the ELLEN DEGENERES SHOW
Check out Luisa's Facebook Page
Click to see Luisa's Website to see all the crazy things she does