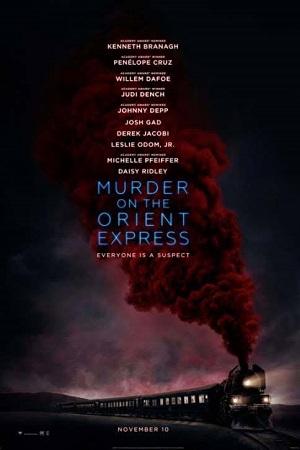 Running Time: 114 minutes
What starts out as a lavish train ride through Europe quickly unfolds into one of the most stylish, suspenseful and thrilling mysteries ever told. From the novel by best-selling author Agatha Christie, Murder on the Orient Express tells the tale of thirteen strangers stranded on a train, where everyone's a suspect. One man must race against time to solve the puzzle before the murderer strikes again.
Directed By: Kenneth Branagh
Cast: Kenneth Branagh, Penélope Cruz, Willem Dafoe, Judi Dench, Johnny Depp, Michelle Pfeiffer, Daisy Ridley and Josh Gad.
What the critics are saying:
"There's something quaint and comforting about this film and its brand of old-fashioned storytelling, where coincidences are extremely likely, everyone somehow knows a countess, and a man puts honor above all else."
April Wolfe, Village Voice
"The result is a dazzling work of art that is alternately fun to watch and hard to shake; the very definition of must-see filmmaking and worth every penny viewers pay at today's excessive prices."
Carl Kozlowski, Pasadena Weekly
"Ultimately, Branagh delivers a thrilling ride through the mountainous snowscapes, making this first-class ticket as opulent as it is chilling. And despite a few missteps, this train is still worth jumping aboard."
Toby Woollaston, New Zealand Herald
 
Film Prices:
Lincoln Theatre Members get a $2 discount on the following prices:
General: $10.50
Seniors, Students and Active Military: $9.50
Children 12 and under: $8.00
Sunday Bargain Prices:
General: $9.00
Children 12 and under: $7.50
Add $2.00 to the above prices for 3D screenings
All prices include a $1.50 Preservation Fee that goes directly into our capital account for preservation of the Lincoln Theatre and its programs. 
 
Members have benefits: Click here for details.
 
Film dates and times are subject to change and extended runs. Please check back here, or our phone message at 360.336.8955, day of show.