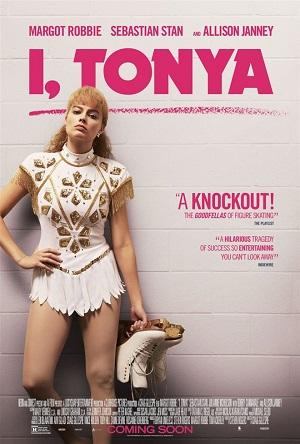 Wednesday, Feb 28, 7:30 pm
Running Time: 119 minutes
Based on the unbelievable, but true events, I, Tonya is a darkly comedic tale of American figure skater, Tonya Harding, and one of the most sensational scandals in sports history. Though Harding was the first American woman to complete a triple axel in competition, her legacy was forever defined by her association with an infamous, ill-conceived, and even more poorly executed attack on fellow Olympic competitor Nancy Kerrigan. Featuring an iconic turn by Margot Robbie as the fiery Harding, a mustachioed Sebastian Stan as her impetuous ex-husband Jeff Gillooly, a tour-de-force performance from Allison Janney as her acid-tongued mother, LaVona Golden, and an original screenplay by Steven Rogers, Craig Gillespie's I, Tonya is an absurd, irreverent, and piercing portrayal of Harding's life and career in all of its unchecked--and checkered--glory.
Directed By: Craig Gillespie
Cast: Margot Robbie, Sebastian Stan, Allison Janney, Paul Walter Hauser, Julianne Nicholson, and Bobby Cannavale.
Three Academy Awards Nominations including: Best Actress, and Best Supporting Actress.
What the critics are saying:
"Led by strong work from Margot Robbie and Alison Janney, I, Tonya finds the humor in its real-life story without losing sight of its more tragic -- and emotionally resonant -- elements."
Certified Fresh on Rotten Tomatoes
"Scene by scene, it made me laugh, cringe, get angry, upset, confused, enlightened, entertained, almost tearful and awed." 
Colin Covert - Minneapolis Star Tribune
"Robbie's screen presence makes her seem, at first blush, more suited to play Kerrigan. But just a few minutes into I, Tonya, I found myself captivated by the anger and blunt physicality that define Robbie's performance."
Angelica Jade Bastien - New York Magazine/Vulture
 
Film Prices:
Lincoln Theatre Members get a $2 discount on the following prices:
General: $10.50
Seniors, Students and Active Military: $9.50
Children 12 and under: $8.00
Sunday Bargain Prices:
General: $9.00
Children 12 and under: $7.50
Add $2.00 to the above prices for 3D screenings
All prices include a $1.50 Preservation Fee that goes directly into our capital account for preservation of the Lincoln Theatre and its programs. 
 
Members have benefits: Click here for detail