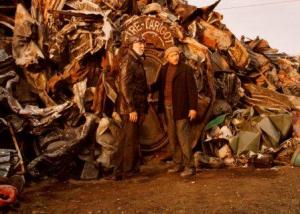 Runnign time: 105 minutes
From the director of Amelie & Delicatessen comes this new comedy about a gentle-natured homeless dreamer who has a stray bullet lodged in his brain that holds him on the brink of sudden, instant death. He is taken in by a motley crew of junkyard dealers living in a veritable Ali Baba's cave. Then one day, walking by two huge buildings, Bazil recognizes the logos of the weapons manufacturers that caused all of his misfortune. He sets out to take revenge, with the help of his faithful gang of wacky friends. Underdogs battling heartless industrial giants, our gang relive the battle of David and Goliath, with all the imagination and fantasy of Buster Keaton.
 
Written by: Jean-Pierre Jeunet & Guillaume Laurant
 
Directed by: Jean-Pierre Jeunet
 
Starring: Dany Boon, Andre Dussollier, Nicolas Marie, Jean-Pierre Marielle, Yolande Moreau, Julie Ferrier, Omar Sy, and Dominique Pinon
 
Language: French w/ English subtitles
 
Admission Prices:

General: $9.00
Seniors, Students and Active Military: $8.00
Members: $7.00
Children 12 and under: $6.00
Bargain Matinee Prices (all shows before 6:00pm)
General: $7.00
Members: $5:00
Children 12 and under: $4.00
Your membership with the Lincoln Theatre saves you $2.00 per film ticket
 
Film dates and times are subject to change. Please check here, or our phone message at 360.336.8955, day of show.