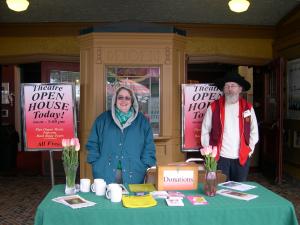 Friday, Jul 29,

10:00 am

to

4:00 pm
Saturday, Jul 30,

10:00 am

to

4:00 pm
The Sidewalk Sale in Downtown Mount Vernon takes place on Friday & Saturday, July 29th & 30th. Downtown businesses are "taking it to the streets" by bringing their wares out to the sidewalks for a special sale. We'll have great deals on film posters ($2 each) and VHS tapes (for collectors!). We'll also have T-shirts, mugs and memberships.
 
We'll need a couple of volunteers per shift to help us. Two shifts per day; 10:00-1:00 and 1:00-4:00.
 
On Saturday downtown will also host the Bite of Skagit. This is a great chance to get out and sample some of our great restaurants, visit the Farmer's Market, and check out the great deals from other downtown merchants as well.
 
We're also tying the whole thing in with Clean Sweep Day on Saturday July 30th from 10—4.
 
Projects include painting backstage, waxing floors in the administration office, bathrooms and concession areas, carpet cleaning and a back alley clean-sweep.
 
You can come early and stay late or come late and leave early. We'll supply morning treats and pizza for lunch.
 
Let Roger, Helga or Pirjo know if you'd like to volunteer for either the Sidewalk Sale or Clean Sweep Day so we can plan out the day and order supplies. You can also call our ticket office at 360.336.8955 ro R.S.V.P.