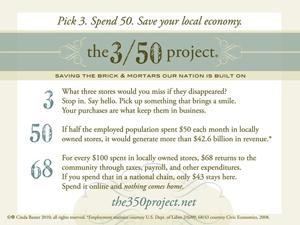 Thursday, Sep 15, 6:15 pm
First Come, First Served Seating
 
The Mount Vernon Downtown Association welcomes Cinda Baxter: the creator of
The 3/50 Project Saving the brick and mortars our nation is built on.
 
 
*Thanks to the Washington State Main Street Program, the MVDA is happy to host an evening with Cinda Baxter!
 
Ms. Baxter will conduct a one evening seminar with a Q&A session on how you can use the 3/50 project to strengthen your own business. Tickets for the seminar will be $5 and can be purchased through the MVDA, Main Street office.
 
The 3/50 Project is a viral Buy Local campaign that sprung from a simple blog post in March 2009, supporting independent, locally owned, "brick and mortar" businesses. The idea is that if half the employed population spent $50 each at locally owned, independent businesses, it would generate more than $46 million in revenue. By educating consumers about the impact of their spending habits, the Project's goal is to increase consumer spending in a way that delivers the greatest amount of financial benefit to local community economies.
 
Relying on the simple premise "Pick 3, spend 50, save your local economy," The 3/50 Project
exploded onto the national stage as a way to help brick and mortar businesses reclaim
consumer dollars in a positive, effective manner. Learn about how the Project came to be,
what it's grown into today, and how you can use it to strengthen your own business.
 
Cinda Baxter is a self-proclaimed "Retail Enabler." Past recipient of two national Retailer
Excellence Awards and press coverage ranging from Modern Bride to the Wall Street Journal,
she now "pays it forward" to retailers and vendors through her consulting company, Always
Upward, and to independent brick and mortar businesses of all types as founder of The 3/50
Project.
Her résumé includes seats on numerous boards in the gift industry; speaking engagements
throughout the US and abroad; and Contributing Editor for the trade publication "Gifts
and Decorative Accessories." Singled out by Inc. Magazine for her expertise in using social media to engage audience's offline, Cinda is also a respected social networking pioneer. Her launch of The 3/50 Project on March 30, 2009 garnered more than 15,000 endorsing businesses and over 30,000 Facebook fans in its first nine months alone...without a budget for advertising or
marketing.
 
 
For tickets and more information please call 360-336-3801 or tickets can be purchased through the MVDA office, the Lincoln Theatre, Mount Vernon, Anacortes, Burlington Chamber of Commerce offices.
Tickets available at the Lincoln Box Office, through the MVDA, or through either the Mount Vernon, Burlington or Anacortes Chamber of Commerce.