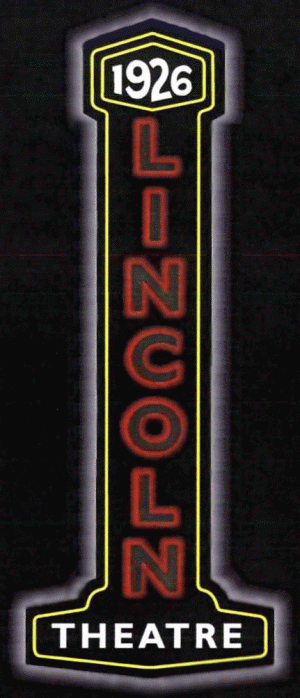 Sunday, Jun 3,

6:30 pm

to

7:30 pm
The Lincoln Theatre Historic Project: 85 Sign Lighting Ceremony
Please mark your calendars and join us for this historic event as we light up the recreated original blade sign from decades past.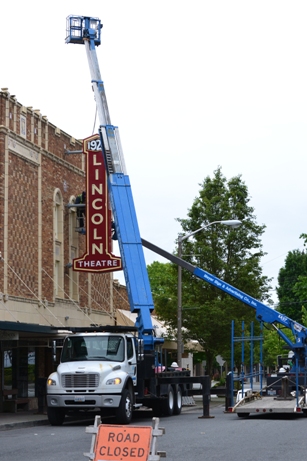 Sign installation as of Wednesday, May 30th 9:30am.
The event is the culmination of more than a year of fundraising for 'Project: 85,' the effort to commission and install the sign on the front facade in honor of the Lincoln's 85th birthday.
The project captured the interest of community businesses and donors who made financial pledges to the campaign. Major donors include the City of Mount Vernon, Skagit State Bank, EDCO Inc., and media sponsor, Skagit Publishing. All will be recognized for their donations at the celebration.
First street will be closed in front of the theatre for the festivities which will feature guest speakers, live entertainment from the Spencer Redmond Quartet, refreshments in the Art Bar and Popcorn (of course). Local residents Barbara Broton and Gaylen Houser won the opportunity to flip the switch and light up the new sign for the first time.
Mayor Jill Boudreau will appear along with State Senator Mary Margaret Haugen. Cheryl Bishop from Skagit State Bank and Jan Hunt, President of the Lincoln Theatre's Board of Directors. Kate Kypuros, the new Executive Director of the Lincoln, will also be introduced to the crowd.
A photo will be taken of all in attendance for our historical archives.
New photograghs of the Lincoln Theatre taken by Damian Vines will be on display for this evening as well.