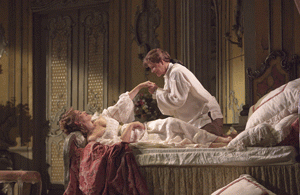 Wednesday, Jul 25, 6:30 pm
Estimated running time: 3 hours, 20 minutes
Strauss's DER ROSENKAVALIER
 
Strauss's comic masterpiece of love and intrigue in 18th-century Vienna stars Renée Fleming as the aristocratic Marschallin and Susan Graham in the trouser role of her young lover. Edo de Waart conducts a cast that also includes Kristinn Sigmundsson and Thomas Allen.
 
 
Production: Nathaniel Merrill
 
 
Conductor: Edo de Waart
 
 
Cast: Renée Fleming, Susan Graham, Christine Schäfer, Eric Cutler, Thomas Allen, Kristinn Sigmundsson
 
 
Original transmission: Saturday, January 9, 2010
 
 
Tickets: $15 general, $13 seniors, $11 students and children w/ $2 member discount. 6 tickets for the price of 5 bundle available.