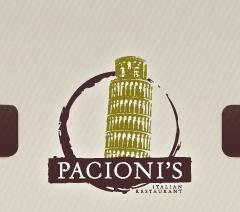 Saturday, Aug 11 (All day)
 
Pacioni's Loves The Lincoln
 
Pacioni's Italian Restaurant invites all members and friends of The Lincoln and, indeed, all of Skagit County and beyond, to join in supporting the Lincoln Theatre. Pacioni's offers a great menu of pizzas, pastas, calzones, insalatas (Italiano for salad) and more, all served by a friendly staff in a casual atmosphere. You can even experiment and build your own pizza. Pacioni's also features a wide selection of wines, beers and sodas specially selected to complement your meal. A long time supporter of The Lincoln Theatre, Pacioni's will donate 10% of all gross sales for Friday and Saturday, August 10 and 11, to The Lincoln.
Pacioni's has chosen this date to coincide with the screening of To Rome with Love, a kaleidoscopic Woody Allen comedy set in one of the world's most enchanting cities. The film brings us into contact with a well-known American architect reliving his youth; an average middle-class Roman who suddenly finds himself Rome's biggest celebrity; a young provincial couple drawn into separate romantic encounters; and an American opera director endeavoring to put a singing mortician on stage.
 
Pacioni's is a family owned brick-and-mortar business employing local people, buying locally sourced goods and services, paying local taxes, and generally supporting the local community. Pacioni's recognizes the importance of the Lincoln Theatre and is pleased to express its support in tangible terms.
 
The Lincoln Theatre has the bold mission of entertaining, informing and inspiring the diverse Skagit County community through cinema, live performance and educational programs. The Lincoln Theatre Center Foundation is a non-profit organization with a very small, highly dedicated staff, a large body of invaluable volunteers and an intensely loyal membership of 1,000 or so mostly Skagitonians committed to preserving the historic Lincoln Theatre. Located in downtown Mount Vernon, the Lincoln Theatre is a cultural cornerstone serving all of Skagit County. We greatly appreciate the support of local businesses and encourage you to support them, in turn.
 
 And now a few words from Meagan Pickett, owner of Pacioni's:
 
We use the freshest, locally sourced (when available) ingredients in all of our dishes. From appetizers and salads to pastas, calzones and Neopolitan-style crust pizzas (voted best pizza in Skagit Valley by Cascadia Weekly), you'll find a meal that will bring you back again and again. And don't forget about our mouth-watering desserts! We are confident that you will enjoy your Pacioni's experience even more in knowing that a portion of the proceeds will go towards supporting the mission of the Lincoln Theatre. Please join us for lunch or dinner Friday and Saturday, August 10 and 11. Then shift to The Lincoln Theatre and enjoy To Rome with Love.
 
 
 
Pacioni's Italian Restaurant is located at 606 South 1st Street in Mount Vernon
 
Hours of Operation:        Monday –Saturday: 11:00 AM - 9:00 PM
                                           Sunday: 3:00 PM to 8:00 PM
 
For more information call (360) 336-3314
 
 
We trust that you appreciate the importance of The Lincoln Theatre to Mount Vernon and all of Skagit County. The Lincoln Theatre Center Foundation, which is solely responsible for the operation of The Lincoln Theatre, is a non-profit organization relying heavily on memberships and the generous sponsorship of local businesses and individuals, both in cash and in kind, as well as ticket sales to fund daily operations. Local Merchants Love the Lincoln spotlights local restaurants and other retail establishments that have graciously consented to support The Lincoln Theatre financially by contributing a percentage of gross revenues for a specific date. We encourage you to patronize these local businesses at every opportunity, not only on the date of the promotion, but throughout the year. Your participation costs you nothing, but clearly benefits specific local businesses and, thereby, the local economy, in general. Those local businesses then share that benefit directly with The Lincoln Theatre. We intend this to be a regular feature of a much more comprehensive fundraising effort. If your business would like to participate in sponsorship of The Lincoln Theatre, please contact us at your earliest convenience.