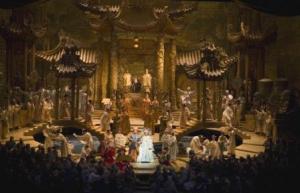 Saturday, Nov 7, 10:00 am
General: $22, Seniors: $18, Students: $15 - Season Packages Available
Director Franco Zeffirelli's breathtaking production of Puccini's last opera is a favorite of the Met repertoire. Maria Guleghina plays the ruthless Chinese princess of the title, whose hatred of men is so strong that she has all suitors who can't solve her riddles beheaded. Marcello Giordani sings Calàf, the unknown prince who eventually wins her love and whose solos include the famous "Nessun dorma."
Conductor: Andris Nelsons; Production: Franco Zeffirelli; Maria Guleghina, Marina Poplavskaya, Marcello Giordani, Samuel Ramey
 
Approximate running time 3 hours 30 minutes / 2 intermissions
 
Tickets will go on sale on August 21 for Met members, on September 1 for members of the Lincoln Theatre and on September 8th for the general public.
 
Saturday date is Live; Sunday date is a recorded encore performance.