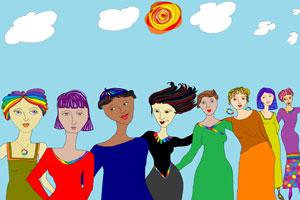 In celebration of International Women's Day, March 8th, the Lincoln Gallery, through out the month of March, will be showcasing powerful women of Skagit Valley, their art and their ability to connect.  Women, as natural communicators and organizers, are often at the hub of the wheel.  This show not only spotlights women of artistic talent, but also women that have made their life their art.  Their knack for creation goes beyond traditional arts and crafts and is reflected in their livelihoods, their community activism, their homes, and their relationships:
Cherie Donovan-Smith paints vibrant, celebratory images of women and creates whimsical felted objects.  She is also the co-creator of the newly founded Artisan Craft Cooperative in Sedro Woolley.  Her art will also be on display in Lincoln Art Gallery in the month of May.
Sarai Stevens, a paper cut artist, is the co-founder of the Bow Little Market and Chuckanut Transition and is a founding member of the Skagit Valley Farmers Market Coalition.  Sarai's 5'9" tall warrior woman woman sculpture, titled "Women's Work," is a multimedia collaborative collage.  The sculpture, illustrating the strength, beauty and force of her women's network, includes writing and images submitted from artists, activists, mothers, radical homemakers, grandmothers, gardeners, and crafters from all over the region.
Laura Mathews, a skilled woodturner, is a co-founder of the Northwest Corner Woodworkers Association Toys for Tots committee, a cooperative group in Bow that shares shop space to  create and donate hundreds of toys every year as Christmas gifts for needy children.  Two of her bowls will be on display.
Britta Eschete will create the story board wall where people are invited to write about and say thank you to women that have made a deep impact in their lives and in their communities.  By sharing our stories of empowerment, we break the myth of our own powerlessness!
During this time of grave economic instability, government paralysis, and environmental collapse, forging community alliances and networks is essential work.  For this reason the Skagit Human Rights Festival will be hosting a reception, March 8th, International Women's Day, from 6:00 - 7:30 pm.  Appetizers and beverages will be provided as we come together in honor of women!