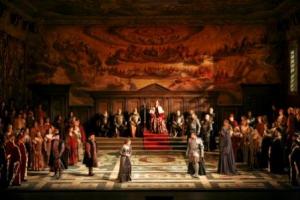 Saturday, Feb 6, 10:00 am
General: $22; Seniors: $18; Students: $15 - Season Packages Available
Four decades into a legendary Met career, tenor Plácido Domingo makes history singing the title role in Verdi's gripping political thriller, which is written for a baritone. Adrianne Pieczonka, Marcello Giordani, and James Morris are his co-stars in this moving and tragic story of a father and his lost daughter. James Levine conducts.
Conductor: James Levine; Production: Giancarlo del Monaco; Adrianne Pieczonka, Marcello Giordani, Plácido Domingo, James Morris
 
 
Approximate running time 3 hours 40 minutes / 2 intermissions
 
Tickets go on sale on  August 21 for Met members, on September 1 for members of the Lincoln Theatre and on September 8th for the general public
 
Saturday date is Live; Sunday date is a recorded encore performance.