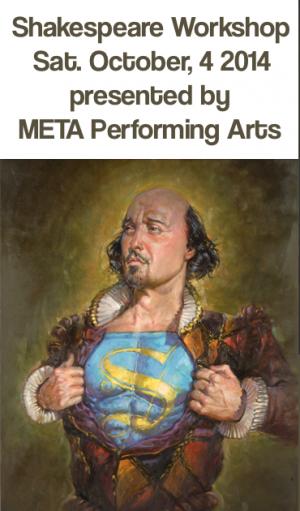 Saturday, Oct 4, 10:30 am
Saturday, Oct 4, 12:30 pm
META Performing Arts presents a free Shakespeare workshop at the Lincoln Theatre (712 S, 1st St, Mount Vernon, WA) Saturday, October 4th with sessions at 10:30am and 12:30PM. Open to ages 8 through adult.
 
10:30 and 12:30 Shakespeare reading sessions with Joe Bowen, director of the upcoming Romeo and Juliet musical. This session is open to the public ages 9 through adult. You do not need to be signed up for Romeo and Juliet auditions to attend these reading sessions.
 
10:30 and 12:30 Individual Audition Music sessions with Romeo and Juliet composer Conrad Askland. These sessions are limited, will be one on one with the composer, open to age 14 through adult, for those that are already signed up for Romeo and Juliet auditions. The composer will give actors tips on their audition songs and answer any questions they have about individual characters on the upcoming production. Auditioners should bring sheet music in the proper key, CD soundtrack or Mp3 played from their cellphone or Ipod.
 
To signup for the Shakespeare Workshop email caskland@gmail.com - letting us know if you are signing up for the 10:30 or 12:30 session, and whether it is for the reading workshop or the individual music sessions. Walkups are welcome for the reading workshop, but preference will be given to those signed up in advance.
 
Auditions for Romeo and Juliet the musical are Tuesday, October 7 and Wednesday, October 8 from 6-9pm at the Lincoln Theatre, Mount Vernon, WA. More details on auditions and the upcoming show available at http://www.RJmusical.com - Email caskland@gmail.com to sign up for auditions.