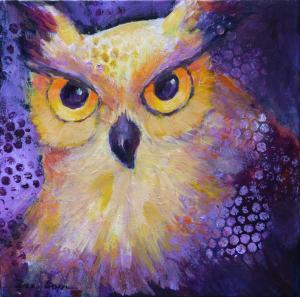 Dee Doyle, Artist and Art Instructor
La Conner, WA
 
A reception with the artist will be held on Friday, January 2nd before, during and after the films.
Art has been a lifelong passion, however intentions to make art in earlier years got derailed by life events. Although Dee began her training in art and fashion, she graduated with a degree in Political Science. Dee returned to art later in life and studied art at a local college in Maryland.
In 2005, Dee relocated to the Pacific Northwest from Annapolis, Maryland, to be closer to family. In addition to attending workshops taught by nationally and regionally known contemporary artists, she continued to take art classes at area Senior Centers, and now teaches weekly watercolors and acrylics classes in several Centers in Skagit County. She also teaches occasional special mixed media and encaustic workshops in Skagit and Whatcom and Island Counties.
Dee belongs to several Art Leagues in the Northwest … Art League North and Skagit Artists Together in Skagit Valley, and has been a member of Whatcom Art Guild in Bellingham, and Stanwood Camano Art Guild in Stanwood. Dee demoes, shows and sells watercolor, mixed media, acrylic and encaustic paintings at regional art shows, including La Conner's Annual Art's Alive! Show.
In addition to being selected as one of the Emerging Artists for La Conner's 2013 Art's Alive! Show, Dee's work has been selected for several Art Show posters, and has won several awards and prizes in recent years at various art shows and club challenges. Dee was also invited to demo at Mac Intyre Hall's Auction, in 2013, where her finished piece was auctioned off.
Artist Statement
Dee says, "I am happiest when I am creating and sharing through teaching and making art. My personal artistic journey is a series of 'what ifs'. I choose to push the boundaries in my work, and try new ways to work the paint, whether it's acrylics, mixed media, watercolors, or encaustics. I particularly enjoy painting figures doing what people do in life, and letting viewers interpret my work through their own filters and personal stories. Whatever I am painting at any time is my favorite thing to paint, and it all makes me smile."
Dee Doyle, 360.630.0208 deedoyle11@gmail.com, DeeDoyleArt.com, www.facebook.com/DeeDoyleArt