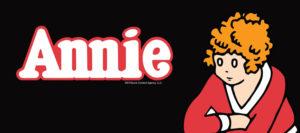 Tuesday, July 10, 2018 - 6:00pm
Wednesday, July 11, 2018 - 6:00pm
Auditions July 10th and 11th.
LEAPIN' LIZARDS! Theatre Arts Guild is proud to present Annie, the musical live onstage, December 1st – 15th, 2018 at The Historic Lincoln Theatre!
Based on the popular comic strip by Harold Gray, Annie has become a worldwide phenomenon and was the winner of seven Tony Awards, including Best Musical. The beloved book and score by Tony Award winners, Thomas Meehan, Charles Strouse and Martin Charnin, features some of the greatest musical theatre hits ever written, including "Tomorrow."
With equal measures of pluck and positivity, little orphan Annie charms everyone's hearts despite a next-to-nothing start in 1930s New York City. She is determined to find the parents who abandoned her years ago on the doorstep of a New York City Orphanage that is run by the cruel, embittered Miss Hannigan. With the help of the other girls in the Orphanage, Annie escapes to the wondrous world of NYC. In adventure after fun-filled adventure, Annie foils Miss Hannigan's evil machinations… and even befriends President Franklin Delano Roosevelt! She finds a new home and family in billionaire, Oliver Warbucks, his personal secretary, Grace Farrell, and a lovable mutt named Sandy.
OPEN AUDITIONS TO AGES 5+: Please note, we are looking for children and adults of all ages. Please also note that young boys are absolutely more than welcome to audition as well! Annie has wonderful opportunities for young boys and men to be included in the scenes outside of the orphanage!
AUDITION DATES: Tuesday and Wednesday, July 10th and 11th at the Lincoln Theatre.
AUDITION TIMES: There will be three (3) audition groups each night, at 6:00, 7:00, and 8:00 pm, you may sign up for whichever date and time is most convenient for you. Please arrive at least 15 minutes early for ample check in time!
CALLBACKS: Some (but not all) auditioners may be called back for follow up auditions on Saturday, July 14th 10-12.
AUDITION REQUIREMENTS:
1) SONG: Pick about a minute of a song that shows off your talent and your special vocal gifts! Bring sheet music (we will have an accompanist for you); or bring your own accompanist. You may also sing with a CD or iPod as long as it is instrumental only; we don't want to hear you try to sing over another artist!
2) MONOLOGUE: Approximately 1 minute. Again, pick something that shows off your talent. Feel free to pick from a movie, a play, a poem, a story, or even something you write yourself. Adding in some physical movement is a plus.
*Please note that if you are cut off at any point in your audition it is merely due to time constraints and not talent*
After your audition you are welcome to stay and watch other groups if you wish.
More information regarding auditions will be updated here as things arise. Most importantly, get the date on your calendar and get excited for a wonderful show!
Rehearsal schedule:
ALL CAST MEETING: Tuesday July 17th.
DANCE: July 24th-August 22nd, Tuesdays 7-9 and Wednesdays 5-9.
MUSIC AND BLOCKING: Tuesdays, Wednesdays, and Thursdays 6-9 pm, September 11th-Nov 15th.
More information regarding rehearsals and load in will be given at the first cast meeting.
Children will be done by 8 pm when rehearsals begin in September-November.
PLEASE let us know about previously planned vacations and other commitments so we can schedule accordingly. Thanks!
Send any questions to mattbianconi@gmail.com and abigailhanson18@gmail.com
We look forward to seeing you at auditions!
PLEASE SIGN UP FOR AUDITIONS USING THE FOLLOWING LINK
http://bit.ly/TAGAnnieAuditions2018
*If you cannot attend either of the audition dates but would still like to audition, please email mattbianconi@gmail.com and abigailhanson18@gmail.com for further details and instructions.*