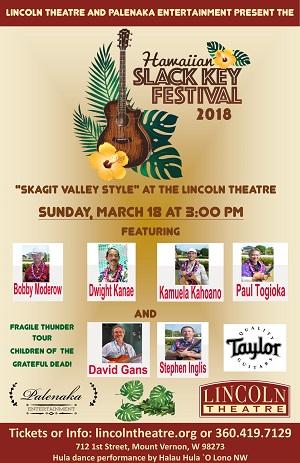 Sunday, March 18, 2018 - 3:00pm
Reserved Seating Tickets: $25; Lincoln Theatre Members receive a $2 discount!
The Historic Lincoln Theatre and Palenaka Entertainment present the Hawaiian Slack Key Guitar Festival.
Join us for an afternoon of Hawaiian Slack Key Guitar Music "Skagit Valley Style".
Kamuela Kahoano
Kamuela Kahoano, aka @Kamuelamusic is a Hawaii-born producer/singer-songwriter/artist. He holds a bachelors in Music Composition from U.H. Manoa, and is a Na Hoku Hanohano award winner ("Stream Dreams" - Rock Category).  Kamuela recently released his newest CD, "Portraits" and has played over 4000 gigs, 800 of which were weddings.  His musical styles include solo ukulele, solo guitar, and looping across an array of genres, fusing Hawaiian, slack key, alternative rock, electronic dance and R&B.  Kamuela also serves as board member for the non-profit "Ryan's Light Foundation".  Kamuela's Website: www.kamuelamusic.com 
Paul Togioka
Paul started playing music professionally on the Bluegrass Banjo and later crossed over to the Slack Key Guitar.  Beginning in 1996, Paul has been a regular on the Hawaiian Slack key Guitar Festival Tours and also received the "Hawaiian Music Awards Best Recording by a Slack Key Artist for his CD entitled "Ohana 'O Kauai Slack Key Instrumentals".  In 1998 Paul and Buddy Panoke received Best Hawaiian Instrumental Recording for their CD titled "Ohana O Kauai Instrumentals from the Garden island".  Since 2004, Paul has released three solo CDs Titled "Ki-ho'alu Inn", "Here, There, & Everywhere" and the 2014 Na Hoku Hanohano nominated "Aikane Kuikawa" produced by Milton and Chris Lau of Ka-Hoku Productions and Rhythm & Roots Records.  Paul also a featured artists on the two time Grammy Nominated and Na Hoku Hanohano Award wining Cs'"Hawaiian Slack Key Kings".  In 2017, Paul was honored with the prestigious "Ki-ho'alu Legacy Award" at the annual Na Hoku Hanohano Music Awards and later in the year the Maryor of Kauai declared November 20, 2017 as "Paul Togioka Day".
Dwight Kanae
A veteran of the Hawaiian music industry and scene.  Dwight has been a professional musician for over 35 plus years.  He has traveled the world several times playing the music of Hawaii and Slack Key Guitar.  Residing in Kaneohe Town on the island of Oahu, Dwight has performed with numerous bands such as the "Peter Moon Band", Three D's" Palani Vaughn, Kawika Kahiapo, Frank Kawaikapuokalani Music Group and Teresa Bright.  Further over the last 10 years he has been a regular performer at the Hawaiian Slack Key Guitar Festivals.  As a composer and recording artist, Dwight has recorded over a dozen albums and with numerous well known artists in Hawaii.
Bobby Moderow
A product of the 1970's, Bobby was the typical guy whose interest in music at the time consisted mainly of classic rock, Hawaiian music, and slack key guitar. His major influences came from such groups as Olomana, Makaha Sons, Raymond Kane, Ledward Kaapana, Hui Ohana, Dennis Pavao and other prominent Hawaiian artists of the era. As a student of Raymond Kane, Bobby branched out on his own and formed his own group called "Maunalua" with Kahi Kaonohi and Bruce Spencer and later Richard Gideon. Over the years the group produced many very successful albums and became the recipients of many Na Hoku Hanohano Music Awards.  Bobby was also a recipient of the prestigious "Ki-ho'alu Legacy Award" in 2015 at the Na Hoku Hanohano Awards.
Stephen Inglis
Stephen Inglis is a versatile artist.  He crosses genres, yet his music always radiates integrity.  Born and raised in Honolulu, he plays Grammy nominated Hawaiian slack key guitar.  He records and tours with the most respected traditional musicians.  His duet album with legend Dennis Kamakahi, Waimaka Helelei, won Hawaii's highest musical honor, a Na Hoku Hanohano Award, and the CD is on permanent display at the Smithsonian Institution in Washington D.C.  Barely out of his teens, Stephen formed a group with legendary Grateful Dead drummer, Bill Kreutzmann.  Today, you can find Stephen as a permanent fixture at all of the Hawaiian Slack Key Guitar Festival in Hawaii, on the Westcoast, Eastcoast and Japan.
David Gans
A David Gans "solo electric" performance is likely to consist of several elements:  Country-blues-style fingerpicking; loop based improvisations created live in the moment; sweetly-sung ballands, original or borrowed; Grateful Dead songs reinterpreted to suit his voice and guitar; wry observations of the music festival sub-culture and the larger world; soulful and passionate political commentary; favorites from the folk-rock canon of the last 50 years.  Mix and match – it's never the same show twice, but it's always worth a listen.
Hula dance performance by Halau Hula O Lono NW