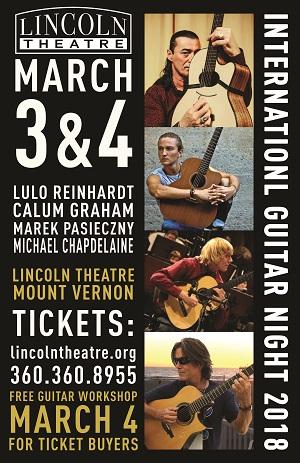 Saturday, March 3, 2018 - 8:00pm
Sunday, March 4, 2018 - 7:30pm
Advance Reserved Seating Tickets: $24 - $39 + applicable fees. Lincoln Theatre Members receive $2 off.
We will host a free guitar workshop for concert ticket buyers on Sunday, March 4 at 3:00PM! All four musicians will talk a little about their musical background, demonstrate their guitar style, and play a number or two. For a general audience, musician and non. 60 minutes. First Come - First Served! A ticket stub from either performance will be your admission.
For IGN's 18th year of touring, Germany's Gypsy Jazz legend Lulo Reinhardt will return as the show's host and will be joined by Calum Graham, the young Canadian contemporary sensation; Marek Pasieczny, Poland's innovative classical composer/performer, and award-winning American guitarist Michael Chapdelaine. Formed in 1995 by Brian Gore, International Guitar Night is the world's premier, and longest running, mobile guitar festival featuring a new quartet of musicians hand-picked by Brian each year.
Lulo has built on grand-uncle Django Reinhardt's repertoire by introducing Latin rhythms. Calum has a two-handed style that has attracted millions of YouTube viewers. Marek has performed and written for a variety of orchestras around the world, and Michael has won both the Guitar Foundation of America Classical Guitar Competition and the National Fingerstyle Championship for steel string guitar.
We will host a free guitar workshop for ticket buyers on Sunday, March 4 at 3:00PM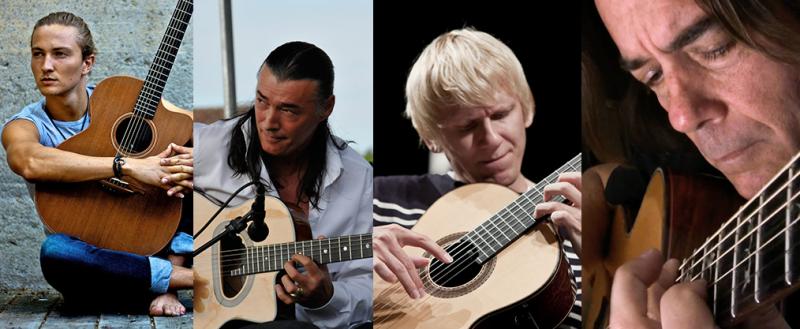 Calum Graham
At just 24, Calum Graham has already enjoyed a career that would be the envy of most artists double his age. The Alberta-based guitarist and singer/songwriter has released five acclaimed albums, won major national music competitions, performed at the Olympic Games in both Vancouver and London, racked up some phenomenal views on YouTube, and was most recently named one of the top 30 guitarists in the world under 30 by Acoustic Guitar Magazine. Andy McKee, one of today's most popular acoustic guitarists, calls Calum "the most promising young guitarist I've seen. His command of the guitar is already really impressive!
Lulo Reinhardt
Django Reinhardt left behind an indelible musical legacy, introducing and defining a passionate style of Gypsy Jazz guitar that was astonishing in the 1930's and is still revered and emulated today. Born to a Gypsy family in Belgium, Django's playing inspired his extended family in Germany and France, and successive generations of Reinhardts have reinforced his powerful musical vision and added their own ideas. Lulo Reinhardt, Django's grand nephew, is a third generation master from Germany.  He has retained  the incredible Reinhardt soul, speed and dexterity  and updated the repertoire.
Marek Pasieczny
Award winning guitarist and composer Dr Marek Pasieczny is one of the most respected contemporary composers writing for the guitar worldwide. Pasieczny holds three Master Degrees in music from the Royal Conservatoire of Scotland in Glasgow, UK (for composition and performance with distinction) and "Karol Lipinski" Academy of Music in Wroclaw, Poland (for performance with distinction). In 2010, Pasieczny began a combined doctoral degree in composition and performance in Australia, before returning to Europe in 2012 and completing his PhD at Surrey University in Guildford, UK in December 2015. At the same time, Pasieczny has taken up lectureship in composition and orchestration at the university.
Michael Chapdelaine
Michael Chapdelaine is the only guitarist ever to win First Prize in the world's top competitions in both the Classical and Fingerstyle genres; the Guitar Foundation of America International Classical Guitar Competition and the National Fingerstyle Championships at the Walnut Valley Bluegrass Festival in Winfield , Kansas.