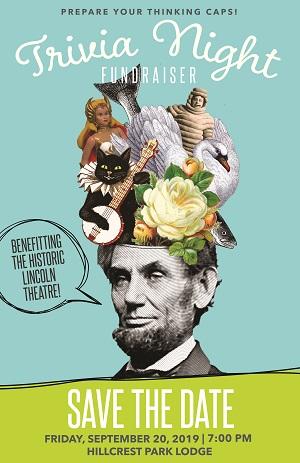 Friday, September 20, 2019 - 7:00pm
Tickets: $50 per person; $350 for a team of eight.
Are you tired of auction galas? Then SAVE THE DATE for The Lincoln Theatre Funraising Event of the Year! Join us for Trivia Night at the beautiful Hillcrest Lodge on Friday, September 20 at 7:00pm.
This is not your average fundraiser. Come by yourself, with a guest, or bring a team of eight to compete against one another in friendly (?) rounds of trivia. Our experienced MC's (Clay Christofferson and Randall Ragsdale) will lead you through the night with accurate, up-to-date questions designed by trivia experts to ensure a perfect balance between challenge and fun! Teams can prepare a team name & dress to match (ex. Team John Trivialta might come dressed as different characters played by John Trivolta, and should we mention Trivia Newton John, E=MC Hammer, or the Red Hot Trivia Peppers?) Don't have a team? No worries, we'll set you up!
Did you know that the Pulitzer Prize–winning cartoonist Art Spiegelman created the Garbage Pail Kids? Or that it was once the custom to dress baby boys in pink and girls in blue? Or that Alfred Hitchcock, horror movie director extraordinaire, was afraid of eggs? We'll have facts like this at the ready!.
Competitive extras will be available such as Mulligans to make up for questions missed, Sabotage used to stop one member from a separate team from playing a round!
The evening will include dinner featuring artisan bar food catered by Random Acts of Food, beverages, and a silent auction!
Thank you to our beer sponsor Farmstrong Brewing Co.