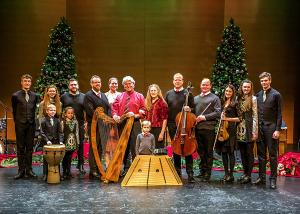 Sunday, December 15, 2019 - 3:00pm
Advance Reserved Seating Tickets: $26 1st Section; $23 2nd Section; $20 3rd Section; $17 4th Section + applicable fees. Lincoln Theatre Members receive $2 off.
Get you tickets early for this yearly sell-out! Tickets go on sale to Lincoln Theatre Members on September 20 at noon and to the General Public on September 27 at noon!
SOLD OUT!
For many in the Northwest, it wouldn't be the holidays without the harps, dulcimers, and energetic Celtic sounds of acclaimed family ensemble Magical Strings. The tradition continues this year, as Magical Strings announces its 41st triumphant year of annual Celtic Yuletide Concerts taking place throughout Puget Sound in December 2019!  Surprises lie in wait…
Enter the timeless realm of Celtic Yuletide!  Three generations of the Boulding family set the stage ablaze with the Tara Academy Irish Dancers, lively fiddling of Jocelyn Pettit (award-winning Canadian artist who will have recently returned from a European tour and studies in Scotland), soulful songs with brilliant Dublin guitarist Colm MacCarthaigh, powerful vocals and singalongs led by Prescott Breeden, and dynamic percussionist Matt Jerrell.  Philip and Pam's Celtic harp and hammered dulcimer sing mysteries from their most recent sojourns in Ireland, augmented by cello, violin, whistles, accordion and concertina.  This festive gala of music, dance, storytelling, juggling, a colorful costumed processional and songs of the season brings warmth and joy into the heart of winter.
About Magical Strings
Philip and Pam Boulding founded Magical Strings in 1978, the same year they began the Celtic Yuletide Concerts with their family. They have performed throughout the U.S., Canada, Ireland and Japan, toured and recorded with Dan Fogelberg, appeared on Garrison Keillor's "A Prairie Home Companion," and recorded 21 albums on four labels. Once called the "Von Trapps of the Northwest" by local media, their love of music is embraced by their five grown children  and six grandchildren, most of whom return each year to join the family band for the Yuletide Concerts.
Magical Strings newest CD release, Fairy Wind captures the exuberant spirit of Philip and Pam's journeys to Ireland and beyond, with 15 sparkling tracks recorded at Big Red Studio, featuring their newest compositions including "The Hermit's Cave" and "Tigh Eamon" along with many surprises.  CDs will be available at all the concerts.
What concert-goers say about Celtic Yuletide:
"…each year it just becomes more magical!"
"…haven't missed a show in 30 years!"
"Our favorite Christmas tradition!!"