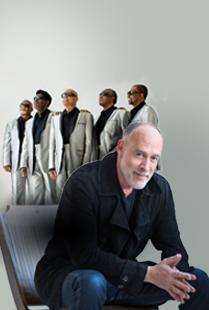 Tuesday, January 23, 2018 - 7:30pm
Reserved Seating Tickets: $69 1st Section; $59 2nd Section; $49 3rd Section; $39 4th Section + applicable fees. Lincoln Theatre Members receive a $2 discount.
The Lincoln Theatre is excited to announce a performance celebrating Marc Cohn's 25th Anniversary Concert Tour featuring the Blind Boys of Alabama
Marc Cohn
After winning a GRAMMY for his soulful ballad "Walking in Memphis," Marc Cohn solidified his place as one of this generation's most compelling singer/songwriters, combining the precision of a brilliant tunesmith with the passion of a great soul man. He's a natural storyteller, balancing the exuberant with the poignant, and able to distill universal truth out of his often romantic, drawn-from-life tales. Marc will perform highlights from his Grammy-winning record, from the iconic "Walking In Memphis," to the poignant "True Companion," along with songs from his entire repertoire over the last 27 years. Fans will hear songs that have surely stood the test of time.  Legendary Gospel artists The Blind Boys of Alabama will be Marc's special guest vocalists for the evening.
"Marc is one of the most soulful, talented artists I know. I love his songs, he's an incredible singer, and I marvel at his ability to mesmerize every audience he plays for." ~ Bonnie Raitt"
Cohn followed up his platinum-selling debut with two more releases in the 1990s, at which point TIME magazine called him "one of the honest, emotional voices we need in this decade" and Bonnie Raitt declared, "Marc is one of the most soulful, talented artists I know. I love his songs, he's an incredible singer, and I marvel at his ability to mesmerize every audience he plays for." 
Bonnie Raitt, James Taylor, David Crosby, Graham Nash and Patty Griffin all made guest appearances on Cohn's early records for Atlantic, as his reputation as an artist and performer continued to grow. In 1998, Cohn took a decade-long sabbatical from recording, ending in 2007 with Join The Parade. Inspired by the horrific events following Hurricane Katrina and his own near fatal shooting just weeks before, Parade is his most moving and critically acclaimed record to date.
About his album Listening Booth: 1970, a collection of reimagined classics from that seminal year in music, Rolling Stone said, "Cohn has one of rock's most soulful croons - a rich immediately recognizable tenor that makes these songs his own." In late 2014, Cohn released, "The Coldest Corner in the World," the title song to the documentary Tree Man and his first original song released in more than seven years. 
On March 25, 2016, in celebration of the 25th anniversary of his platinum-selling debut album, Marc proudly released Careful What you Dream: Lost Songs and Rarities and the bonus album, Evolution of a Record, featuring never-before-heard songs and demos dating back to years before his debut and the Grammy Award that followed. 
The Blind Boys of Alabama
The Blind Boys of Alabama have the rare distinction of being recognized around the world as both living legends and modern-day innovators.  They are not just gospel singers borrowing from old traditions; the group helped to define those traditions in 20th century and almost single-handedly created a new gospel sound for the 21st.  Since the original members first sang together as kids at the Alabama Institute for the Negro Blind in the late 1930s (including Jimmy Carter, who leads the group today), the band has persevered through seven decades to become one of the most recognized and decorated roots music groups in the world.
Touring throughout the South during the Jim Crow era of the 1940s and 1950s, the Blind Boys flourished thanks to their unique sound, which blended the close harmonies of early jubilee gospel with the more fervent improvisations of hard gospel. In the early 1960s, the band sang at benefits for Dr. Martin Luther King, Jr., and were a part of the soundtrack to the Civil Rights movement. But as the years passed, gospel fans started to drift away and follow the many singers who had originated in the church but were now recording secular popular music. And the Blind Boys, who refused many offers to 'cross over' to secular music, also saw their audiences dwindle. However, the Blind Boys persevered and their time came again, starting in the 1980s with their starring role in the Obie Award-winning musical "The Gospel at Colonus," which began a new chapter in their incredible history. It's almost unbelievable that a group of blind, African-American singers, who started out touring during a time of of whites-only bathrooms, restaurants and hotels, went on to win five Grammy Awards, a Lifetime Achievement Grammy, be inducted into the Gospel Music Hall of Fame, and to perform at the White House for three different presidents.  
Few would have expected them to still be going strong—stronger than ever, even—so many years after they first joined voices, but they've proved as productive and as musically ambitious in recent years as they did in the beginning. In 2001, they released Spirit of the Century on Peter Gabriel's Real World label, mixing traditional church tunes with songs by Tom Waits and the Rolling Stones, and won the first of their Grammy Awards. The next year they backed Gabriel on his album Up and joined him on a world tour, although a bigger break may have come when David Simon chose their cover of Waits' 'Way Down in the Hole' as the theme song for the first season of HBO's acclaimed series The Wire.  Subsequent Grammy-winning albums have found them working with the likes of Ben Harper, Aaron Neville, Mavis Staples, The Preservation Hall Jazz Band, and Willie Nelson.
In 2013 the band worked with Justin Vernon (of Bon Iver) to release I'll Find A Way,  a powerful collection of gospel and spiritual songs new and old, featuring some of the Blind Boys' most fervent vocals as well as contributions by a new generation of Blind Boys fans, including Merrill Garbus of tUnE-yArDs, Patty Griffin, and Justin Vernon himself. 
As many of you know from their past shows at the Lincoln, The Blind Boys' live shows are roof-raising musical events that appeal to audiences of all cultures, as evidenced by an international itinerary that has taken them to virtually every continent.  The Blind Boys of Alabama have attained the highest levels of achievement in a career that spans over 75 years and shows no signs of diminishing.   "We appreciate the accolades and we thank God for them," says Jimmy Carter, a founding member and the Blind Boys' current leader.  "But we're not interested in money or anything other than singing gospel.  We had no idea when we started that we would make it this far.  The secret to our longevity is, we love what we do.  And when you love what you do, that keeps you motivated.  That keeps you alive."