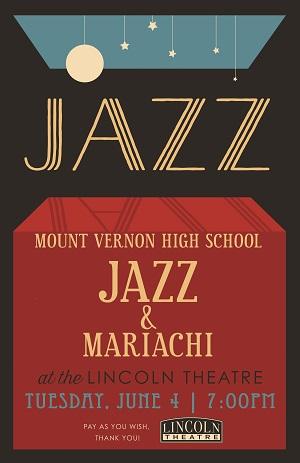 Thursday, November 1, 2018 - 7:00pm
Thursday, February 28, 2019 - 7:00pm
Friday, April 19, 2019 - 6:00pm
Tuesday, June 4, 2019 - 7:00pm
Come and listen to one of Washington's premier jazz programs! These jazz bands are part of the nationally‐known Fine Arts department at Mount Vernon High School. This program is committed to maintaining the vibrant, unique American art form that is jazz. Musicians of all levels are given the opportunity to learn, play, perform and compete at local venues and festivals. Come relax and enjoy the wonderful music of Nestico, Ellington, Miles Davis, Marvin Fisher, Count Basie and much more!
MVHS Mariachi will also perform on these evenings.
Free Admission, donations appreciated.
Skagit Jazz Night on April 19 features young musicians from around the region performing at the Lincoln. The night is all about bringing people together, and showcasing great students making music across city lines. The eighth annual Skagit Jazz Night will begin at 6:00pm! Arrive early and enjoy the Tulip Festival Street Fair!
 
Admission is by donation. Money collected will support the music boosters of all the participating schools.