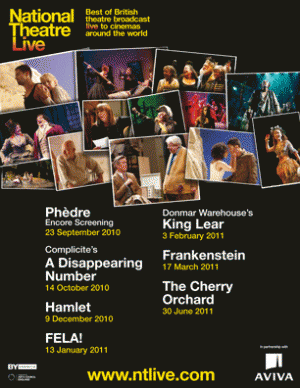 General: $15; Senior $13; Student $11. Lincoln Theatre Members receive and additional $2 off per ticket.
 
Next up in this fantastic series of HD broadcasts is Danny Boyle's Frankenstein. 
 
NATIONAL THEATRE LIVE is the NT's groundbreaking initiative to broadcast live performances of plays to cinemas and performing arts venues around the world. The first season was seen by over 165,000 people on 320 screens in 22 countries.  
The second season's line up includes, for the first time, two collaborations with other British theatre companies: Complicite and the Donmar Warehouse, whose productions of A DISAPPEARING NUMBER and KING LEAR will be filmed respectively at the Theatre Royal, Plymouth and the Donmar's home theatre in London.
 
"We couldn't have foreseen that the experimental National Theatre Live season would be such a hit with audiences around the world, who are hungry to see our work in their local cinema", says Nicholas Hytner, Director of the National Theatre. "We're delighted that we can confidently build on its success with a second season of broadcasts, and warmly welcome our partnerships with Complicite and the Donmar Warehouse."
NATIONAL THEATRE LIVE performances are filmed live in high definition and broadcast via satellite to over 300 cinemas around the world, live in Europe and some US cities, and time-delayed in countries further afield. There are over 75 venues in the UK alongside venues in the USA, Canada, Australia, South Africa, Scandinavia and Europe. The performances at the National are nominated in advance to allow cameras greater freedom in the auditorium. 
 
For season packages click here;
 
For individual tickets click on selected performances below:
 
PHÈDRE – 23 September 2010 (encore screening)
Helen Mirren plays the title role Nicholas Hytner's highly acclaimed production of PHÈDRE by Jean Racine, in a version by Ted Hughes, with a cast also led by Dominic Cooper and Margaret Tyzack.  Consumed by an uncontrollable passion for her young stepson and believing Theseus, her absent husband, to be dead, Phèdre confesses her darkest desires and enters the world of nightmare. When Theseus returns alive and well, Phèdre fearing exposure, accuses her stepson of rape. The result is carnage.
 
Complicite's A DISAPPEARING NUMBER 14 October 2010
In National Theatre Live's first venture beyond London, A Disappearing Number, from the internationally acclaimed theatre company Complicite, will be broadcast from the Theatre Royal, Plymouth. Conceived and directed by Simon McBurney, A DISAPPEARING NUMBER won the Laurence Olivier, Evening Standard and Critics' Circle Awards for Best New Play. It weaves together the story of two love affairs, separated by a century and a continent. The first happens now. The second is set in 1914. It tells of the heartbreaking collaboration between the greatest natural mathematician of the 20th century, Srinivasa Ramanujan, a penniless Brahmin from Madras in South India, and his British counterpart, the brilliant Cambridge don GH Hardy.
 
HAMLET 14 December 2010
Shakespeare's HAMLET, directed by Nicholas Hytner, will be broadcast from the National's Olivier Theatre. Following his celebrated performances at the National in Burnt by the Sun, The Revenger's Tragedy, Philistines and The Man of Mode, Rory Kinnear plays Hamlet; the cast also includes Clare Higgins (Gertrude), Patrick Malahide (Claudius), David Calder (Polonius), James Laurenson (Ghost/Player King) and Ruth Negga (Ophelia). Hamlet, the prince of Denmark, sees his father's ghost. Tormented with loathing and consumed by grief, he must avenge his father's murder. What he cannot foresee is the destruction that ensues.
 
FELA! 13 January 2011
A provocative and wholly unique hybrid of dance, theatre and music, FELA! explores the world of Afrobeat legend Fela Anikulapo-Kuti.  Using his pioneering music (a blend of jazz, funk and African rhythm and harmonies), FELA! reveals Kuti's controversial life as an artist and political activist. Featuring many of Fela Kuti's most captivating songs and Bill T Jones's 2010 Tony Award-winning choreography, this original new creation comes via Broadway to the National Theatre, where it will be broadcast live from the Olivier Theatre on 13 January. Sahr Ngaujah (who won an Obie Award for his performance as Fela Kuti) will lead a new cast for the London production.
 
Donmar Warehouse's KING LEAR 3 & 27 February 2011
Derek Jacobi plays the title role in the Donmar Warehouse production of Shakespeare's KING LEAR, directed by Michael Grandage, which will be broadcast from the Donmar's home in London's Covent Garden. An ageing monarch. A kingdom divided. A child's love rejected. As Lear's world descends into chaos, all that he once believed is brought into question. One of the greatest works in western literature, KING LEAR explores the very nature of human existence: love and duty, power and loss, good and evil.
 
FRANKENSTEIN 17 March 2011
Danny Boyle's new production of FRANKENSTEIN, a play by Nick Dear, based on the novel by Mary Shelley, will be broadcast from the National's Olivier Theatre.
 
THE CHERRY ORCHARD 30 June 2011
Anton Chekhov's The Cherry Orchardwill be directed by NT Associate Director Howard Davies, whose recent productions of Russian plays (including Philistines, Burnt by the Sun and The White Guard) have earned huge critical acclaim.  Zoë Wanamaker will play Madame Ranevskaya.
 
 
 
'I grew up in Manchester in the 60s. If I had been able to see Olivier's National Theatre at my local cinema, I would have gone all of the time.'  Nicholas Hytner
NT Live is an exciting initiative to broadcast live performances of plays onto cinema screens worldwide. The four show pilot season launched with Phèdre, with Helen Mirren, Margaret Tyzack and Dominic Cooper.
On 25 June the performance of Phèdre was filmed in high definition and broadcast via satellite to approximately 70 cinemas and arts centres, reaching a widespread audience live across the UK. Tickets cost £10. Over 200 venues around the world also screened the production.
The performances will be nominated in advance to allow cameras greater freedom in the auditorium.
Broadcasts will also feature behind-the-scenes footage and interviews with artists.  We hope to open the walls of the National Theatre and invite cinema audiences around the country and the world to share in the work we create.
 
NT Live events are distributed outside the U.K. through New York-based BY Experience, Inc, the pioneer of global live "alternative content" digital cinema events. For more information visit www.byexperience.net