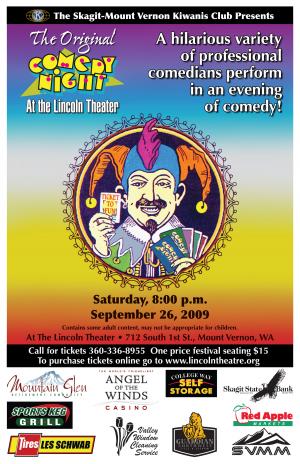 Saturday, September 26, 2009 - 8:00pm
Join hilarious professional comedians, two hours of rib-tickling fun in one gorgeous historical venue with all the proceeds going back to the community to assist Skagit area kids and other important needs.
This Year's Show!
Mike Pace is our headliner. Known for characterizing the well-scrubbed mischievous boy-next-door, using numerous facial   expressions to keep people in stitches.  He's engaging, without offending anyone.  Yet he's able to push the envelope of reality into humorous episodes you'll enjoy! 
Check out his website: www.mikepace.com
 
Dax Jordan—named by an original valley girl and a jazz drummer—who would have guessed!  He makes statements by asking questions people are afraid to answer.  Acts are tailored to the audience … like grad parties from a Catholic High School … lumber jacks …hipsters in urban villages … even those who grew up in Conway!  He's able to be the devil's advocate while remaining opinionated, the perfect combination for a stand up comedian
www.myspace.com/daxjordan
 
Louie Fox has been a full-time entertainer since 1996, long enough to know better.  Shows combine uproarious fun with unique presentations and tons of audience participation.  Get the full effect by sitting down in the 'splash zone.'  You won't be     disappointed
www.festival-magician.com
 
TICKETS ~
$15 each, festival seating.
 
Available from the Lincoln Theater box office,
 
on-line at www.lincolntheatre.org,
 
and from your local Kiwanis Club members.