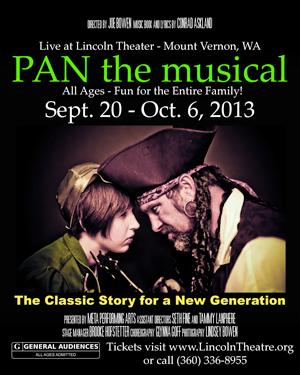 Friday, September 20, 2013 - 7:00pm
Saturday, September 21, 2013 - 7:00pm
Sunday, September 22, 2013 - 2:00pm
Friday, September 27, 2013 - 7:00pm
Saturday, September 28, 2013 - 2:00pm
Sunday, September 29, 2013 - 2:00pm
Thursday, October 3, 2013 - 7:00pm
Friday, October 4, 2013 - 7:00pm
Saturday, October 5, 2013 - 7:00pm
Sunday, October 6, 2013 - 2:00pm
The first four rows and house left front are being held for staging and orchestra.
Reserved seating ticket prices: $20, $17, $15, and $10 available now plus a special $10 bargain show on Thursday, Oct. 3, 7:00 pm - all seats first come first served night of the performance - tickets available two hours prior to curtain. There is a 10% discount for groups or families of 5 or more for the reserved seating performances.
2013 PREMIERE
 
Peter Pan comes to life with a cast over 40 strong in this live musical stage production. Fun audience interaction, melodramatic suspense, vaudeville gags and high brow musical theater combine to delight adults and children alike. Share this classic tale with your family while you help Peter Pan and the Lost Boys defeat the Pirates of Neverland.
 
A world premiere musical by Conrad Askland. Directed by Joe Bowen and presented by META Performing Arts. An interactive family friendly experience. The classic story for a new generation.
 
Fair warning: The first couple rows may get wet!