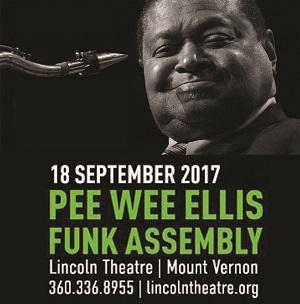 Monday, September 18, 2017 - 7:30pm
$35 first section: $30 second section; $25 third section; $20 fourth section + applicable fees. Lincoln Theatre Members receive $2 off.
After some 55 eventful years as a musician, band leader, arranger and composer Pee Wee Ellis is still touring the world and working on new collaborations, despite his fast-approaching 75th birthday.
His remarkable story spans six decades, starting in the 50s when he took himself and his sax off to New York city to find his heroes Miles Davis, Thelonious Monk and the great Sonny Rollins (who became his teacher and mentor.) A promising career leading jazz bands in Florida took an unexpected turn in the 1965 when he joined James Brown's sensational Revue, playing alto. Within six months he was bandleader/musical director and was cowriting with James Brown. 'Cold Sweat', widely acknowledged as the first true funk record, and many of JB's hits for the next four years were the fruit of this collaboration.
By 1970 Pee Wee moved on to CTI in New York and was producing and directing for the likes of Brother Jack McDuff, Esther Phillips and George Benson. In 1979 in California he caught the ear of Van Morrison and began a five year spell as Van's MD/bandleader arranging the horns on albums such a Into the Music, and Common One.
During the 1990's Pee Wee moved to Europe and pursued a burgeoning solo career, releasing jazz albums including the critically acclaimed '12 and More Blues'. He also formed the JB Horns with ex James Brown alumni Maceo Parker and Fred Wesley, who toured widely to great acclaim.
Pee Wee rejoined Van Morrison as bandleader and arranger for five more highly successful years around this time. Meanwhile, his worldwide reputation had become apparent as musical stars from Africa and Cuba (including Oumou Sangare, Cheikh Lo, Ali Farke Touré and Buena Vista Social Club stars Cachaito Lopez and Anga Diaz) sought his distinctive sound for their recordings.
Having led the spectacular 'Still Black, Still Proud' an African Tribute to James Brown and being a founder member of drumming legend Ginger Baker's Jazz Confusion, in recent years Pee Wee is now focused on his own projects: his band The Pee Wee Ellis Assembly, an autobiography, film projects, a 75th year Anthology and the heritage project FUNK: Evolution of the Revolution.
He is a regular contributor to educational programmes in schools, communities and universities – a fact recognised when he received an honorary doctorate in 2014, and he still frequents the studio with a variety of artists among them Boy George, Joss Stone and George Clinton.
Fred Ross will be the vocalist with the Pee Wee Ellis Funk Assembly. Fred, former vocalist with Tower of Power, sat in with Cold Blood the last time they where at the Lincoln, and he is the Man! Also in the band: Brian Foxworth (drums), Ben Jones (Bass), Michael Elson (Hammond B3), and Jay 'Bird' Koder (Guitar). 
It's been a truly eventful musical life, and the signs are that Pee Wee Ellis has no intention of slowing down yet awhile…