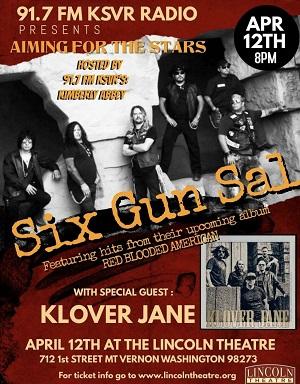 Thursday, April 12, 2018 - 8:00pm
Advance Reserved Seating Tickets: $40 VIP; $27 1st section; $22 2nd Section; $16.50 3rd Section + applicable fees.
KSVR radio presents...Six Gun Sal and Klover Jane!
Los Angeles based southern rock band Six Gun Sal will move you with melodic emotional ballads, and grungy rocked out powerhouse songs, featuring powerful lead guitars and funky bass riffs, and drum fills. With a large international social media fan base and the favorite of many top name musical artists, Six Gun Sal is quickly rising to the top of the performing music industry. You're want to see these guys live!!
Klover Jane is a popular Seattle rock band, releasing an album 'Sporadic Insanity' in 2016.  The band continues their signature sound. Klover Jane songs push the sonic envelope and showcase the power and the energy that Klover Jane can deliver.  "On Sporadic Insanity, the band parlays the fine tuning gained by gigging into a slab of rocking attitude and musical proficiency that should appeal to a wide spectrum of rockers."
VIP ticket includes premium seating, an After Party, with an acoustic set by Klover Jane, and autographs and selfies with the bands.