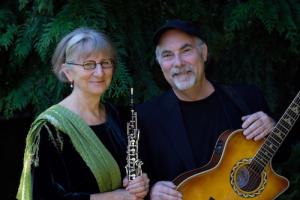 Friday, December 6, 2019 - 7:30pm
Advance Reserved Seating Tickets: $29 1st Section; $25 2nd Section; $21 3rd Section; $17 4th Section + applicable fees. Lincoln Theatre Members receive $2 off.
Enduring Musical Partnership  
For over 34 years, Grammy Award-winning artists, Eric Tingstad and Nancy Rumbel have performed and recorded music together and they have been a perennial favorite of Lincoln Theatre audiences. Their holiday performances feature a perfect blending of Americana fingerstyle guitar, double reeds; and the ocarina that lends magic to any season and fills the world with hope and beauty through the redeeming power of music. 
Guitarist Eric Tingstad is a composer/producer/songwriter. Composer Nancy Rumbel is one of the world's most unique oboe, English horn and double ocarina performer and recording artist. 
Eric and Nancy began their collaboration in1985. Their debut album, The Gift, an acoustic Christmas collection, quickly became a holiday classic. In the Garden raked in national reviews from The New York Times, The Washington Post as well as Billboard. Both Pastorale and Paradise debuted at number one on the Adult Contemporary charts. In 1998 their double album, American Acoustic was honored as "Acoustic Instrumental Album of the Year" and spent 10 weeks on the Billboard radio charts.  Their Carnegie Hall debut appearance occurred in 2000.  They received a GRAMMY Award for Acoustic Garden in 2003 at Madison Square Garden.  
Nancy grew up in San Antonio's eclectic musical culture and continued her musical education at Northwestern University. She became fascinated with world music and experimented with improvisational techniques on her instruments eventually leading to an invitation to join the Paul Winter Consort. 
Eric grew up in Seattle and attended Western Washington University where he was trained in the Segovian classical guitar tradition. He's also a product of rock, jazz and blues, along with the family "Hi-fi" with playing Hawaiian slack key guitar, Ravi Shankar, The Kingston Trio and Martin Denny. 
Nancy's signature sound is heard on countless recordings.  She has pioneered the use of the oboe, English horn and ocarinas outside of their usual classical contexts. Also an avid nature lover and gardener, her BirdNote radio theme is heard daily by over a million people across the world.
By a vote of his peers, Tingstad was honored in October 2006 with the Coyote Award from Arts Northwest commemorating his leadership, visibility, and contributions to the constant change in the arena of live performance.
Rumbel is an active member of The Recording Academy and has served as a Governor, Vice-President, Secretary and the first female PNW Trustee.  She is an enthusiastic supporter and volunteer for MusiCares whose mission is to provide emergency funding for people in the music industry. 
In 2007 Eric received another GRAMMY nomination for his recording Southwest. In 2012 he released his recording Badlands which continues in the Americana style, deriving influence from Native American music, along with country and roots genres. 2015's Mississippi is the follow up CD to Southwest and Badlands. Mississippi was #1 at radio and #2 of the top 100 instrumental recordings for 2015. it was also nominated "Album of the Year" for the ZMR awards.
In 2019, Tingstad and Rumbel continue to bring value to their style of American instrumental music by touring internationally, writing, recording and producing.