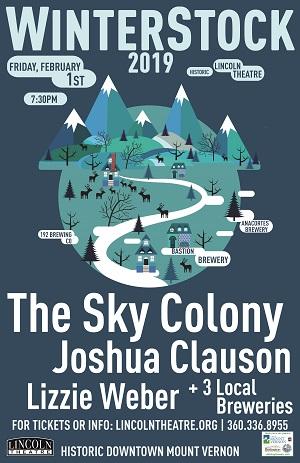 Friday, February 1, 2019 - 7:30pm
Advance Festival Seating Tickets: $20 + applicable fees. Lincoln Theatre Members receive $2 off. Day-of-Show Tickets: $25
Winter Blues got you down? The Lincoln Theatre presents an evening of high energy, foot stomping music; one that will take the chill away and get you up and moving with three of our favorite PNW bands:
The Sky Colony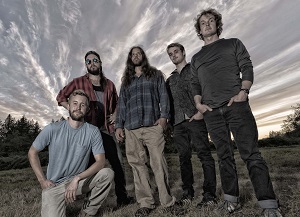 The Sky Colony are a wholesome Cascadian indie folk rock group, focused on what matters most to them: creating music, and more importantly, their intention behind it. Since their formation in 2012, the story behind their sound has organically grown into one of personal empowerment and discovery. Along with complex instrumental layering, intricate harmonies, catchy hooks, and classic guitar solos, you have a complete experience of Skagit Valley, Washington's own, The Sky Colony.
Joshua Clauson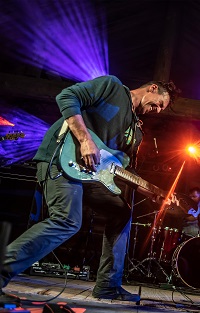 Josh began experimenting with a variety of genres, missing jam, funk, rock and soul with work beats and African drums. The result was Flowmotion, a Seattle-base group that founded a music festival and performed highly danceable music up and the the West Coast for well over a decade. During a hiatus from the band , Josh recorded a collection of acoustic tunes that he had written over the years. The resulting self-titled album is an intimate, soft-spoken confessional, showcasing josh's raw talent for delivering simple, heartfelt songs. Expect to hear songs from that album and his newest, Driftless, is a dream-folk album drenched in lush imagery, ambient soundscapes, and compelling lyrics.
Lizzie Weber
After spending the last two years in both Seattle and on the island of Fidalgo, Lizzie Weber traveled to Iceland last March to collaborate with the Academy Award-winning artist Marketa Irglova (The Swell Season/Once). Together, they produced and recorded two songs, "River" and "Free Floating" released in November and described by Glide Magazine as "a quiet folk song with angelic harmonies and lush instrumentation that swells into a dramatic, beautiful soundscape."  This release comes immediately after Lizzie's EP, "You." Seattle Weekly premiered the three song EP in September, saying. "Most singer-songwriters can pen a halfway decent breakup tune, but it takes a deft touch to craft aching odes to relationships' ends while still maintaining a composed confidence devoid of melodrama. Seattle singer-songwriter Lizzie Weber pulls off the feat…"
and Three Local Breweries from Skagit Valley's ever expanding Beermuda Triangle; 192 Brewing, Anacortes Brewery, and Bastion Brewing Company!