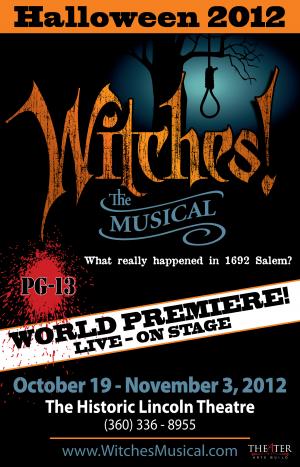 Friday, October 19, 2012 - 7:30pm
Saturday, October 20, 2012 - 7:30pm
Thursday, October 25, 2012 - 7:30pm
Friday, October 26, 2012 - 7:30pm
Saturday, October 27, 2012 - 7:30pm
Sunday, October 28, 2012 - 2:00pm
Wednesday, October 31, 2012 - 7:30pm
Friday, November 2, 2012 - 7:30pm
Saturday, November 3, 2012 - 7:30pm
Thursday, October 25th is Bargain Night! All seats $10 - Festival Seating - available at the door only, beginning two hours prior to curtain.
Reserved Seating Tickets: $10 - $24
Final Weekend for Witches! the Musical. Don't miss out.
Theater Arts Guild presents Witches! the Musical, a Halloween world premiere production based on historical events of the 1692 Salem Witch Trials. Famous historical characters come to life with a cast over 30 strong as Witches! the Musical portrays the dark events of the Salem Witch Trials with a spine tingling score of rock, hip hop, classical and 20th century music styles mixed with satire, fantasy, fact and fiction.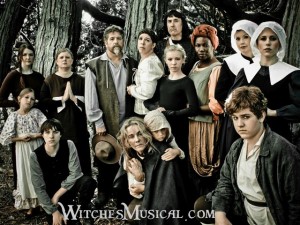 Witches! the Musical cast photo by Lindsey Bowen
Directed by Jane Skinner with book, music and lyrics by Conrad Askland.
Rated PG-13 for content.
More info at www.WitchesMusical.com