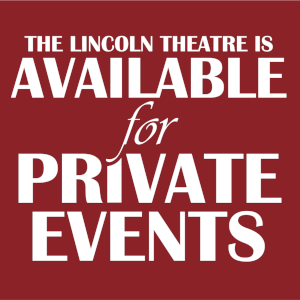 Thursday, Nov 10, 5:00 pm
The Lincoln Theatre is a multi-use facility, offering the community the opportunity to present live performances, private movie screenings, weddings, conferences, memorial services, and fundraiser events.
Special Events at the Lincoln are unique, wonderful experiences for the audience.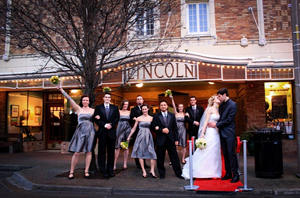 Over the years, the Lincoln has had on its stage everything from community and professional theatre productions, to touring rock performers, to opera, to world-famous blues masters, to the annual talent show put on by the kids at the local elementary school. There have been weddings, receptions, conferences, workshops, memorial services, and every type of public and private gathering one can imagine.
The stage can be re-configured into a variety of arrangements, and the front rows of seating can be removed to make room for tables, displays, dancing, and other activities.
Our projection capabilities feature state-of-the-art digital equipment, and permit development of a full multi-media presentation.
The Theatre staff is highly experienced in working with everyone from the seasoned promoters to those with a dream and the willingness to make their event a success!