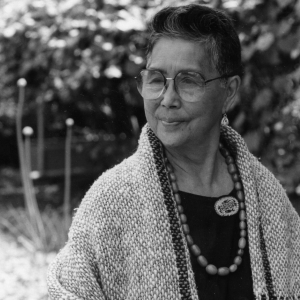 Please join us at the Lincoln Theatre for the Skagit Valley Premiere of the documentary The Healing Heart of Lushootseed, followed by a panel discussion with Jill La Pointe, Ryan Dudenbostel, Bruce Ruddell, and moderator John La Pointe.
Feeling heartbroken by the tragic events of September 11th, 2001, Vi taqᵂšəblu Hilbert, an 83-year-old elder from the Upper Skagit Indian tribe in the Pacific Northwest, asked the spirit, "What can one person do to heal a sick world?" The answer she received was "music." The Healing Heart of Lushootseed, a short documentary film, tells the extraordinary story of how a diminutive great-grandmother gathered support for her most ambitious project yet, to heal the heart of the world through music.
Vi taqᵂšəblu Hilbert, an Upper Skagit tribal member, was born and raised by Skagit (Lushootseed) speaking parents in the Skagit River area of Washington State. She was educated from birth to the traditional customs and language of her Indian community.
Vi began her extensive formal work with Lushootseed in 1967 and later founded the organization in 1983. She started working with linguist Thom Hess who introduced her to the written language. Vi taught the language at the University of Washington for nearly two decades and was awarded an honorary Ph.D. from Seattle University in 1994.
She encouraged and assisted many of the local tribes in developing their own language programs. Vi received many awards for her dedication including being named a Washington State Living Treasure, a US National Heritage Fellow and the Ken Hale Prize for lifelong achievement. Most recently Seattle University named a new ten-story building on campus in her honor.
This event is free and open to all.
Red carpet reception at 6:30 pm. Film begins at 7:30 pm.