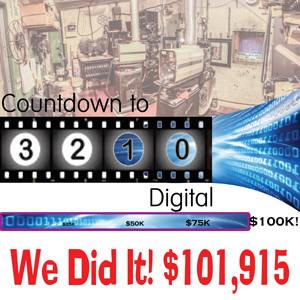 Digital Futures Update – IT'S A WRAP!
The Future is Ours!  Thanks to the hundreds of individuals, businesses, and foundations that wanted to ensure the Lincoln Theatre moves into the future both strong and healthy, we have MET OUR GOAL! 
A recent grant from the M.J. Murdock Charitable Trust means that we can declare success and get on with purchasing and installing the equipment we need for this crucial upgrade.  (Didn't get a chance to participate but still want to give?  We know that over time we'll need to do maintenance, buy projector bulbs, and similar items, so your chance to give hasn't passed you by!!)
We'll celebrate this fall once the equipment is installed – we're working on the event details right now. Watch for your invitation!
To have met our goal, which was at once vital and substantial, is a huge step forward for the Lincoln.  And it is due to the community that loves and supports the theatre and the activities we bring to the community.  THANK YOU, THANK YOU!
Our success is thanks to so many people, including those that worked on DIGITAL FUTURES fundraisers: Brian Ledbetter, Super Zumba and Ali Hernandez Vargas, the Arlington Lakewood Mountain Bike Club, and the Witches the Film cast and crew. 
Thanks go, as well, to all of you who have borne with us through the campaign, supporting us and reiterating your love of the Lincoln. 
Donors include:
Brenda Adair-Taylor
Frances Ambrose
Charles Anderson
Anonymous
Marcia Anthony
David Austin
Barbara Baatz Wasserman
Judith Baker
Liz and Michael Bart
Helen Baumgartner 
Jim and Karen Beckner
Eva & Fred Beeks
Joline Bettendorf
Judy & Lyall Bishop
Sarah Bishop
Robert Boudinot
Dan & Jill Boudreau
Barney Bourns
The Brevoort Family
Barbara Broton
Susan Brown
Janet Brynjolfsson 
Greg Cannistraci 
Jaci Chamness
Judy Chapman & Carl Johansen
Robin Clizbe
Alice Collingwood 
Barbara Corrigan
Joan Cross
Elmyra Dalton-Zehner
Sherry Day
Barbara Day
David Defferding
Marie-Claire Dole
Andrea Doll
Camille Drotts
Susan Duffy
Diane Eiesland 
Jerry and Marilyn Eisner
John and Marie Erbstoeszer
Mary Evitt
Beverly Faxon and Doug Mills
Carly Feiro
Ron Feld & Lorna Klemanski
Ruth Flucke 
Richard Francis
Judy Gamble & Todd Wood
Karen Gardiner
Robert Gates
Warren "Bud" Gilbert
Peter Goldfarb
Richard Goldstein
Roger and Kris Goodan
Dean and Ragina Gray
Jason Griffith
Denis & Wil Harlock
The Heflin Family
Kathleen Hoose
Ray & Margaret Horak
Gaylen Houser
Chuck Howell
Oliver Iversen in memory of Sydney Iversen
David Johnson
Gini Johnson
Norm & Lin Johnson
Steve Johnson
Steve & Robyn Johnson
Brenda Johnston
jim justice
Louise Kelly
The Kendricks
Janna Marie Kilburn & Allan Sleeman
John Knudsen
Susann Krouse
Karen Krub
Kristine A Kuhns
Linda Larson
Michael Lindsay-Jones
Pam Lorenz
Thomas Lynn
Susan Macek & Dave Buchan
Mac MacGregor
Linda McAdams
Sheila & Sam McCandlish
Alisoun McCloughen
Jim & Rhonda McNett
Pascale Michel
Brooks Middleton
Marilyn Miller
Janine Moden
Kit Muehlman
Danielle Mullen
Chuck Nafziger
Tamara & Bill Neuffer
Gabriel Olmsted
Katherine Overstreet
Pirjo Pasanen
Dena Petersen
Mary M. Phlypo & James E. Burke
Sandra Place
Sheila Pringle Christopher Rawson
Stephen & MaryAnn Ready 
Kyle Reep
Helen Reichlin
Bob & Hope Rendleman
Alan & Susan Rhodes
Roger Ridgway
Scott & Christy Rittenhouse
Scott Rockwell
Heather & Craig Romano
Penny Roodzant
Michael Roth
Bev Rudd
Joan Rutherford
Joan Schaeffer
Doreen Schreuder
Charlotte Scofield
Michael Sevigny
Kathy Shiner & Don Pendleton
Gerry Ellen Sleeth
Richard Smith
Eileen Smith Moreland
Margaret Stapleton
Bernice Steele
Mark Steen
Stu & Sally Stern
Gale Sterrett 
Diane Studley
Kate Szurek 
Mary Ann and Dennis Taylor
Mary and Bob Taylor
Tom Theisen Architects
Jan and Bob Tivel
Bill Toomey
Larry and Carol Van Sickle
Rolf Vecchi
Donald Wadland
Heather Waldron
Helene Watkins
John Webster
Steve & Darcy Wells
Rebecca Weston
Mike and Linda White
Don Wick
Jerry Willins
Robert Wilson
Sheena Wilson
Anne Winkes
Katherine Wright
June Yost
Rita Yribar & Bob McElroy 
Alison Zak & Paul Blum
Susan Zamaria & Steve Girard
Helen Zenon
Rob & Valeri Zwick
Mount Vernon Skagit Rotary Charitable Foundation
Port of Skagit County
Quil Ceda Village - Burlington Mid-Day Rotary Foundation 
Rotary Club of La Conner
Paccar Inc - Jack & Shirley McIntyre Foundation
Boeing Employees Matching Fund - Janicki Industries
M.J. Murdock Charitable Trust
and the countless people who put donations in The Hat!
THANK YOU ALL!  YOU ARE A TREMENDOUS COMMUNITY.  WE COULDN'T BE HERE WITHOUT YOU!
The Board, Staff, and Volunteers of the Lincoln Theatre