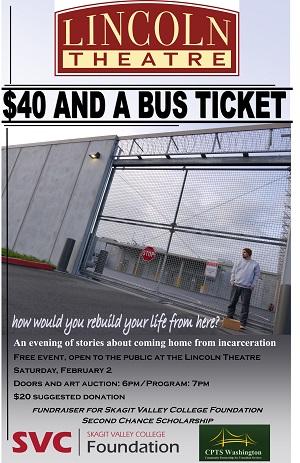 $20 suggested donation; free event; open to the public.
An evening of stories about coming home from incarceration.
Doors and auction: 6pm/Program 7pm
Sponsored by Skagit Valley College Foundation and Community Partnership for Transition Services (CPTS)
This event is a benefit for the Second Chance Scholarship.
Announcing the creation of TASA (Theatre Artists for Social Action)
TASA is currently a small group of socially minded theatre artists whose intention is to focus on the needs of marginalized people who live in Skagit County. Our purpose is to educate and advance the understanding of social justice issues in our community with a purpose in mind of motivating people to take immediate action. Our theatre projects are research-based and focus on targeting solutions. Our first project is called "Forty dollars and a Bus Ticket" and has been compiled from stories and interviews with previously and currently incarcerated people. The genre is Reader's Theatre, as well as Verbatim Theatre, as an effort is made to stick as closely as possible to the words of the person telling their story. We are happy to partner with Community Partnerships for Transition Solutions (CPTS) for this first event and be part of an evening of education about important issues incarcerated people face when trying to rebuild their lives. Please join us at the Lincoln Theatre on Sat Feb 2nd at 7pm. There will be a silent auction of artwork from the County Jail from 6-7pm in the lobby. At 7pm the program will begin with a keynote speaker, followed by the Reader's Theatre performance and then a panel discussion. Admission is by donation and all donations go to create Second Chance Scholarships at Skagit Valley College. Music for this event will feature Marcia Kester.
A shout out to the actors who are dedicating time to this project: Elfa Gisla, Beth Wallace, Pete Lincoln, Carl Turner, Sarah Lloyd, Ethan Vanliew, and Ricardo de Jesus Lopez