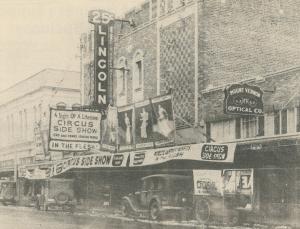 Thursday, Apr 21, 7:00 pm
Invitations given to Project 85 donors - Contact Box Office for more information
Lincoln Theatre 85th anniversary Gala!
 
Celebrating 85 years of entertainment is a tall order, but we at the Lincoln have a jam-packed evening of performance and film in store! Using the model of the original opening night in 1926, we have a variety of live vaudeville-styled acts for the first half of the show.  This includes the musical comedy of the Bottom Line Duo (as heard on NPR's 'Says You' and more), a '20s-inspired dance routine by Skagit Vaudeville Revival Society, and the 'Little Egypt' belly dance performance by the magnificent Astarte.
 
During the second half of the program we present two short comedy films by Laurel & Hardy.  These classic mid-'20s clips are accompanied live on our Mighty Wurlitzer organ by local theatre organ expert Andy Crow.
 
 
 
 
This historic event celebrates 85 years to the day that the Lincoln has been providing art and entertainment to our region.  So take a step back in time, support the theatre's mission in the community, and enjoy this grand event to celebrate one of Skagit County's cultural treasures.