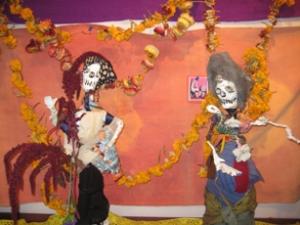 Dia de los Muertos is one of my favorite celebrations. This time of year is said to be when the veil between the two worlds is most permeable. It is a celebration of the harvest, respect for ancestors, and a time of family reflection and joy.
 
Marigolds are said to draw the spirits to the grave site. Look for these flower designs, versions of the Indian Rangoli, in front of the theatre throughout the month.
 
I hope that viewers will participate with their own mementos and offerings.
 
Nick Young and I put this show together.
 
Patty is a graduate of the University of Washington with a B.F.A. in ceramics and a B.A. in General Art. She also attended the San Francisco Art Institute with a focus in sculpture. Some of Patty's honors include a book called, "Art of Mosaic Design," she one first place at a Mosaic Show at Pound Gallery in Seattle and is a Member of the King County Arts Commission.
 
Her teaching experience includes an Artist in residence for the Burlington, La Connor, Mt. Vernon, and Conway school districts.
 
Patty's show will continue through November 1st for a special hands-on installment for our Dia de los Muertos event.