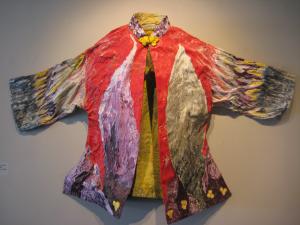 I currently work at Skagit Valley College as a coordinator for a grant funded program that provides guidance, financial support and education for lower income students. I am currently completing my AVA degree at Skagit Valley College so I have taken art classes at the college and at Western Washington University in ceramics, drawing, painting, photography and printmaking.
 
I have recently joined the Cascade Clay Artists and had my work as part of the Depot Show with a group in Anacortes the month for June.
 
I love pattern, color, texture, the history of art, gardening and fabrics. Climbing trees was something I did a lot of when I grew up as our house was very chaotic and noisy. Climbing the mountain in front of our house gave me a gorgeous patterned blanket view of the valley below and brought me some quiet. My husband and I bought the bustier at a Goodwill store six years ago and added the dried field grass but then wrapped it up not knowing how to use it. Years later, I began making hand made tiles and then the piece came together for me. I like to make clay act and look like pattern and use paper to accent the richness and texture of the clay; so the piece with hand made paper and tiles turned out very well.
 
I am currently working full time so it leaves little time for art or travel to places to see art. I am always inspired by an early walk on a rainy day with wet leaves bleeding onto the sidewalk. I hope my art makes you think.