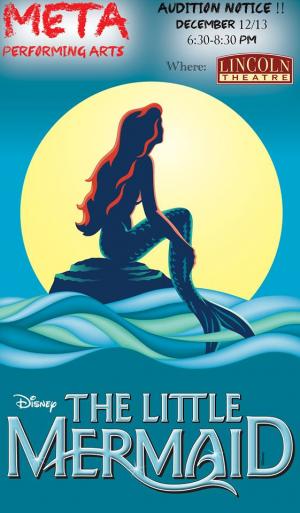 Monday, Dec 12, 6:30 pm

to

Tuesday, Dec 13, 8:30 pm
META Performing Arts is AUDITIONING for their upcoming production of Disney's THE LITTLE MERMAID
to be performed at the Historic Lincoln Theatre in Mount Vernon, WA.
(Due to licensing restrictions, performance dates will be announced, publicly January 1st but we will begin rehearsing January 4th 2017)
Auditions info:
When: December 12th and 13th
Where: the Historic Lincoln Theatre in Mount Vernon
Time: 6:30-7pm registration, audition photos, parent information 7-8:30pm audition.
Who: 12 principal characters and more than 30 supporting cast members.
Age range for the cast will be 7 years to adult.
What to prepare:
Singing:
*We'd like for you to perform 16-32 bars of a Disney song or something appropriate to the style.
*Bring sheet music, a Piano accompanist will be provided (you're welcome to provide your own)
*A recorded accompaniment is acceptable (without vocal track)
*Avoid acapella auditions. We need to hear you sing along to a specific rhythm and pitch.
Acting:
*Please prepare a (one-minute or less) memorized character speech or poem.
We encourage auditions that emphasize your movement skills and acrobatics.
Dance/Movement:
*We will have a 16-count dance audition in small groups.
Director/Choreographer: Rececca Launius-Brown
Musical/ Vocal Director: TJ Anderson
CALLBACKS: Some (but not all) auditioners may be called back for follow-up auditions on Saturday December 17th at 1 PM (Location TBA) Whether or not you are called back has NO bearing on whether you will be cast. Being called back does not mean you are getting a role, and NOT being called back doesn't mean you are NOT getting a role. Callbacks are simply necessary when the directors want to hear someone a second time, or when they want to see how a person looks and/or sounds with certain other people. YOU DO NOT NEED TO PREPARE ANYTHING FOR CALLBACK AUDITIONS.
Rehearsals will commence January 4th and will run Monday and Wednesday evenings at St Paul's Episcopal in Mount Vernon from 6-8…Saturday rehearsals yet to be determined.
Cast Information:
• If cast, there is a $200 participation fee for actors under 18 years of age
• Scholarships are available to eligible families
12 Principle Roles:
Prince Eric
Grimsby
Ariel
King Triton
Sebastian
Flounder
Scuttle
Flotsam
Jetsam
Ursula
Carlotta
Chef Louis
30+ Supporting Cast:
Sailors,
Mer-sisters,
Gulls,
Eels,
Sea Creatures,
Maids,
Chefs,
Princesses and
Other Animals
Other People