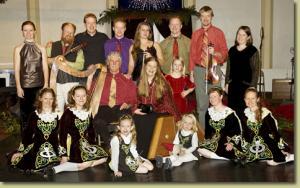 $21 Front, $19 Middle, $17 Back, $14 Value
A few tickets still remain for this wonderful tradition at the Lincoln Theatre. Buy your tickets at the door or click here now. 
 
Join in a celebration three decades in the making, as the Celtic family ensemble Magical Strings brings their 32nd annual Celtic Yuletide Concerts to performances throughout Puget Sound!  Combining lush and gorgeous Celtic-flavored holiday music, with singing, dancing, juggling, caroling, storytelling, and more, the acclaimed Celtic Yuletide concerts are staged annually by three generations of the multitalented Boulding family and friends.
 The concerts are grand gala events, with music that features the richness and magic of Celtic harps, hammered dulcimers, violins, cello, whistles, and concertina (and more), and have become a festive, joyful and eagerly anticipated Northwest holiday tradition for people of all ages. It's the perfect holiday tradition for families, showcasing the music of the season in a way that is as joyful as it is mystical, haunting, and timeless. Magical Strings will be joined by the Raney Irish Dancers and the Tara Academy of Irish Dance, vocalists Mark and Colleen Raney, Irish fiddler extraordinaire Dale Russ, and more—in an unforgettable celebration to kindle the light of Yuletide, better than ever in its 32nd year!
 
A Joyous Festival of Music and Dance:
With Celtic harps, hammered dulcimers, whistles, concertina, strings and more, Philip and Pam Boulding and their five grown children along with granddaughters are joined by the lightning feet of the Raney Irish Dancers and Tara Academy Dancers. Soulful Irish songs sung by actress/singer Colleen Raney (another sibling of the Raney clan) will grace the hall, while her brother Mark Raney on vocals, guitar and cittern charms all with his warmth, humor, and poignant songs.  Also featured is a magical tale from the Celtic tradition, providing a glimpse of another world through story, verse and eurythmy.  The audience becomes a key part of the festivities, with members invited to don a costume and follow the processional through the aisles with the musicians, and join in the caroling near evening's end.  The hall resounds in glorious harmony as we close singing "All Through the Night."
 
About Magical Strings:
Philip and Pam Boulding founded Magical Strings in 1978, the same year that they began the tradition of Celtic Yuletide Concerts with their family. They have performed throughout the United States, Canada, Ireland and Japan, toured and recorded with Dan Fogelberg, appeared on Garrison Keillor's "A Prairie Home Companion," and recorded 18 albums on four labels.  Often referred to by local media as the "Von Trapps of the Northwest", their love of music is embraced by all five of their grown children, who each year return home from the east coast to join the band for the final weekend of Yuletide Concerts.  Their daughter Brittany, a virtuoso violinist, has recently moved from New York City back to the Northwest where she will be playing with the Seattle Symphony and Pacific Northwest Ballet Orchestra.  Philip and Pam also design and build Celtic harps, run the School of Magical Strings, and host the Magic Hill Summer Harp Camp, and Summer Fairy School on their beautiful 5-acre home overlooking the Puget Sound.
 
About Colleen Raney: 
 
Colleen has been performing since the age of four as a singer, dancer, and professional actress in the Pacific Northwest and in New York City.  As one half of the duo Mark and Colleen Raney, she has been putting her own spin on Irish music around the area for over 20 years.  Colleen recently released her first album of traditional and non traditional Irish music, Linnet, which has already received wide acclaim.  It was produced by award-winning Irish flute player Hanz Araki, who plays on this CD along with a host of notable artists.  Rumor has it that a new CD is forthcoming this Yuletide! 
 
About Mark Raney: 
 
Mark lives and works as a Country Doctor in Sultan, Washington, and contributes vocals, guitar, and cittern along with a mental library of countless songs from the British Isles. Mark studied the ancient art of Irish 'sean nos' song under the legendary Joseph Heaney during the early 1980's.  He is a founding member of the Irish band Rapparee  that has headlined at F.X. McRory's and the Seattle Center House Irish Heritage Club gala for over 30 years.
 
Dale Russ is an American fiddle player who gets rave reviews from the best Irish fiddlers. He started playing the fiddle in 1973 when first moving to Washington State from his native Connecticut. He performed for 15 years with the traditional Irish band "The Suffering Gaels", appearing at the Milwaukee Irish Festival in 1993 and '94. Following the demise of the Suffering Gaels, he played with Finn MacGinty and Tom Creegan in the trio "Crumac" until Finn drifted back to Ireland to reside.  More recently he toured the Midwest with Paddy O'Brien in the trio "Chulrua". He is featured in the spring 1997 issue of Fiddler magazine.  "Dale Russ is one of the greatest fiddlers I know in Irish traditional music."  -- Martin Hayes
Comments from Yuletide attendees:
"It's not Christmas till the Yuletide Celebration."   NG, Kirkland
"What a joy and delight. My heart was stirred, and my feet were tapping. Enchanting!"  PD, Centralia
"A fantastically warm concert. This is the beginning of a new tradition for me and my family."  BM, Gig Harbor
"Sets my feet a dancin' and my hear soaring! I'm 67 now…you make me feel young again!" LJ
"We brought cousins visiting here from Limerick, Ireland who declared the program 'brilliant'".    MP,
"You guys rock!"  CU, Tacoma
"I feel deep joy listening to the music – ancient stirrings of something warm and familiar. Thanks!"  DH
 "Wonderful!  This will be our annual tradition."  FJC, Woodinville
"Absolutely beautiful!"  AH, Issaquah
"Fabulous!  We'll be back next year!"  CF, Olympia
"This is our family tradition—wonderful!"  BB, Lynnwood
"I find myself transfixed and in awe of where the music takes me."  EE, Seattle
"With no power for a week, you have warmed my heart for this holiday season and the year to come."  SW, Bellevue
"There is no doubt that you already embody the joy and priceless recognition of this soul-inspired season.  Your concert last weekend was my most favorite ever experience.  The genuine love and inclusive outreach to the community was straight from the heart.  I love the spirited selections as well as the lullaby for your granddaughter.  To be a member of your family or even an extended member would be a real honor for anyone…Thank you for your outpouring of love and fabulous music.  The McKassons were amazing, as was the juggler and the woman with the angel's voice.  My husband couldn't get over the young dancer who clicked her heels midair. We'll be back next year.  Thank you for the inspirational evening and for making these concerts a tradition.  In gratitude,"   SK, Portland, OR
Experience the joy of Celtic Yuletide.