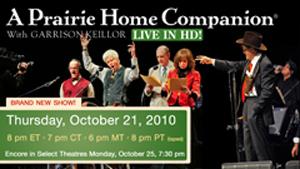 Thursday, Oct 21, 8:00 pm
Oct 25th Encore- $16 General, $14 Members
Oct 21st Live- $18 General, $16 Members.
Don't be late! Pre-show starts a half hour before broadcast.
 
It's a regular Prairie Home show made for the big screen, featuring the boot-stompin', heart-breakin' songs of Old Crow Medicine Show, the sweet sounds of Nickel Creek's Sara Watkins, some smoldering honky-tonk from Joe Ely, soulful duets with singer-songwriter Andra Suchy, and the heavenly sounds of the Women's Vocal Ensemble of The St. Olaf Choir. Also with us, The Royal Academy of Radio Actors; Tim Russell, Sue Scott, with both Tom Keith, AND Fred Newman. Plus The Guy's All-Star Shoe Band, and The News from Lake Wobegon.
A Prairie Home Companion is back and it's ALL NEW! Join us again as Prairie Home Productions, American Public Media, and BY Experience bring A Prairie Home Companion with Garrison Keillor – LIVE in HD! back to the big screen with all new skits, performances by the Guy's All-Star Shoe Band and special guests.
 
This new production will feature special guests such as singer/fiddle player Sara Watkins, roots music quintet Old Crow Medicine Show, Texas singer/songwriter Joe Ely, accordion master Joel Guzmán, and vocalist Andra Suchy. Regular show performers will be on hand, including actors Sue Scott and Tim Russell, sound-effects wizards Tom Keith and Fred Newman, and the "Guy's All-Star Shoe Band," featuring guitarist Pat Donohue, percussionist Peter Johnson, and bassist Gary Raynor, and led by keyboardist, composer, and arranger Richard Dworsky.
 
Each week, A Prairie Home Companion is heard by more than four million listeners of every age, on more than 600 public radio stations across the country. The show — performed live on stage in front of an audience — features comedy sketches, music, and Keillor's signature monologue, "The News from Lake Wobegon." The show has been host to thousands of guest artists and has been broadcast from Canada, Ireland, Scotland, England, Germany, Iceland, and nearly each of America's 50 states.