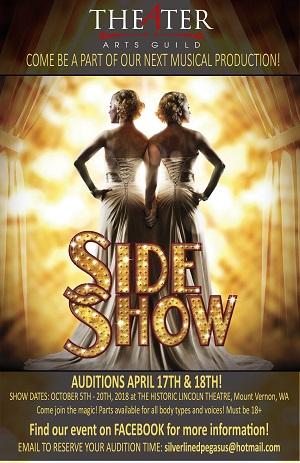 Wednesday, Apr 18, 6:00 pm
Auditions
Theater Arts Guild is proud to present Side Show, the musical live on stage October 5th – 20th, 2018 at the very fitting location of The Historic Lincoln Theatre (an old vaudeville performance theatre!)
Based on the true story of Siamese twins Violet and Daisy Hilton, who became stars during the Depression, SIDE SHOW is a moving portrait of two women joined at the hip, whose extraordinary bond brings them fame but denies them love. Told almost entirely in song, the show follows their progression from England to America, around the vaudeville circuit, and to Hollywood on the eve of their appearance in the 1932 movie FREAKS. With musical styles ranging from the vaudevillian "Stuck With You" to the sweepingly emotional "Who Will Love Me as I Am," this gorgeous musical from the composer of DREAMGIRLS will touch your heart and tickle your funny bone.
OPEN AUDITIONS to all those OVER 18
Please Note: We are specifically looking for and welcoming actors who do not fit the traditional, Broadway body type and voice type. Actors who are differently abled and have talents that are deeper than their appearance are encouraged to audition. All shapes, sizes, ethnicities, and abilities are welcome! If you know someone like this please kindly encourage them to audition!
AUDITION DATES: Tuesday and Wednesday, April 17th and 18th
AUDITION TIMES: There will be three (3) audition groups each night, at 6:00, 7:00 and 8:00 pm. You may sign up for whichever date and time is most convenient for you. Please arrive at least 15 minutes early to allow ample time for check in!
**Please email the director at silverlinedpegasus@hotmail.com to secure your time!**
CALLBACKS: Some (but not all) auditioners may be called back for follow up auditions on Saturday, April 21 10-2.
AUDITION REQUIREMENTS:
1) SONG: Pick a song that shows off your talent and your special vocal gifts! Bring sheet music (we will have an accompanist for you); or bring your own accompanist. You may also sing with a CD or iPod as long as it is instrumental only; we don't want to hear you try to sing over another artist! NO A CAPELLA
(Initial auditions must be individual solos; no duet auditions for Daisy and Violet will be allowed)
2) MONOLOGUE: Approximately 1 minute. Again, pick something that shows off your talent. Feel free to pick from a movie, a play, a poem, a story, or even something you write yourself. Adding in some physical movement is a plus!
3) ADDITIONAL TALENTS: Do you juggle? Breathe fire? Walk on stilts? Unicycle? Tumble? Jump? Stick needles through your skin? Any of those and any other wild and wonderful talent you have WE WANT TO SEE!
After your audition you are welcome to stay and watch other groups if you wish.
More information regarding auditions will be updated here as things arise. Most importantly, get the date on your calendar and get excited for a fabulous show!