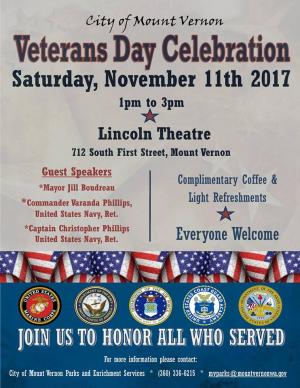 Saturday, Nov 11, 1:00 pm
This is a Free Event to Honor our Veterans!
Mount Vernon Parks and Recreation presents a Veterans Day Celebration November 11th ~ 1pm to 3pm. Join us for coffee and refreshments at the historic Lincoln Theatre in Downtown Mount Vernon as we hear from honored guest speakers and celebrate our veterans.  All veterans, their families and friends, and all community members are encouraged and welcome to attend this event.  Admission is free. For more information call Mount Vernon Parks and Enrichment Services at (360) 336-6215.