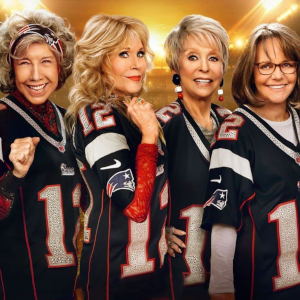 Score a Mother's Day Touchdown!
Bring your mom, grandma, daughters, and everyone else you know (even dudes are welcome!) for this special bargain-priced Mother's Day showing of 80 for Brady!
Film icons Lily Tomlin, Sally Field, Jane Fonda, and Rita Moreno star as four life-long friends who take a wild trip to achieve their goal of attending the Super Bowl and meeting NFL superstar Tom Brady.
"This is a movie for the fans: for admirers of its many stars, for people who love a good real-life and feel-good narrative, and even those who really love Guy Fieri." —Nick Allen, The Playlist
Directed by: Kyle Marvin
Starring: Lily Tomlin, Jane Fonda, Rita Moreno, Sally Field, Tom Brady, Billy Porter, Guy Fieri
United States | English | 2023 | Comedy | 98 minutes | PG-13
Masks are recommended but not required.
COVID SAFETY PROTOCOLS CAN BE FOUND HERE.
Film Prices
Lincoln Theatre Members get $2.00 off on the following prices with discount code:
Sunday Bargain Prices:
General: $9.50
Children 12 and under: $8.00
All prices include a $2.00 Preservation Fee that goes directly into our capital account for the preservation of the Lincoln Theatre and its programs.