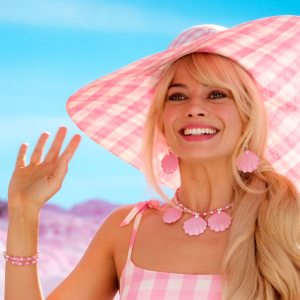 Barbie is back for her encore at the Lincoln Theatre! Celebrate Labor Day with the return of an icon!
Margot Robbie and Ryan Gosling star as the iconic couple Barbie and Ken in this visually dazzling comedy. Writer-director Greta Gerwig smartly blends meta humor with subversive storytelling and ends up with a perfect pink smoothie of fun.
To live in Barbie Land is to be a perfect being in a perfect place. Unless -- like Barbie -- you're having a full-on existential crisis.
Or, I guess, if you're a Ken. Whatever -- it's just Ken.
"It's a riotously entertaining candy-coloured feminist fable that manages simultaneously to celebrate, satirise and deconstruct its happy-plastic subject. Audiences will be delighted." —Mark Kermode, Observer
"Barbie is a triumph. There's so much happening in every corner of the frame, yet not so much that Gerwig ever loses focus on the characters populating her madcap realm of nonsensical imagination." —Sara Michelle Fetters, MovieFreak.com
Directed by: Greta Gerwig
Cast: Margot Robbie, Ryan Gosling, America Ferrera, Issa Rae, Kate McKinnon, Simu Liu, Rhea Perlman
United States | English | 2023 | Comedy, Romance, Adventure | 114 minutes | PG-13
Masks are recommended but not required.
COVID SAFETY PROTOCOLS CAN BE FOUND HERE.
Film Prices
Lincoln Theatre Members get $2.00 off on the following prices with discount code:
General: $11.00
Seniors, Students, and Active Military: $10.00
Children 12 and under: $8.50
SUNDAY 3:00 BARGAIN PRICES:
General: $9.50
Children 12 and under: $8.00
Sunday 3:00 showing features Open Captions (subtitles present on screen throughout film).
All prices include a $2.00 Preservation Fee that goes directly into our capital account for the preservation of the Lincoln Theatre and its programs.