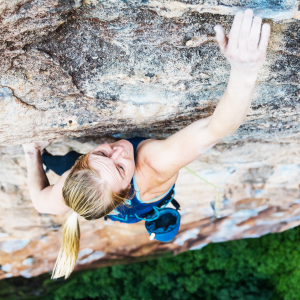 The Climbing Film Tour is back for its 4th season with an awesome selection of short films celebrating the global climbing community. Here's the lineup for this year's one-night film festival:
A NEW LINE
Join Lucy Stirling, Olympic rock climber, on a personal quest to rediscover her passion for outdoor climbing. Taking a break from competition, Lucy embarks on a month-long road trip to the Blue Mountains, a renowned climbing destination. Through her journey, she seeks to redefine the meaning of climbing and find deeper emotional connections in nature and her own life. Experience Lucy's compelling story as she strives to reignite her fire and pursue her outdoor climbing goals.
TRANSCENDENCE
At age 21, Adrien Costa was a professional cyclist at the top of the professional circuit when he decided to leave the sport and pursue climbing. Six months later, he had an accident in the mountains that changed his life forever... The film follows his recovery from the accident and journey to the cutting edge of adaptive climbing, taking on an ambitious alpine climbing goal in Washington with a revered mentor.
IF IT'S EASY, IT'S NOT FUN
Liv Sansoz, climbing World champion, and Zeb Roche, paraglider and guide, invite filmmaker and photographer Aurelie Gonin on an adventure in Jordan's Wadi-Rum desert. Together, they aim to conquer big walls, capture breathtaking photos, and tackle the challenging Jihad wall. Follow their captivating journey through mesmerizing landscapes, exhilarating climbs, and adrenaline-pumping paragliding flights. Experience the fusion of action, culture, and friendship in this ode to the thrill of adventure.
STIRLING RANGE HIGHLINE
Join a tight and passionate group of highliners as they visit the beautiful Stirling Ranges in Western Australia. This new film showcases the logistics, camaraderie, fear, excitement and stoke of highlining in this epic location.
ELECTRIC AVENUE
Right next to Aiguille du Midi, situated in a sea of mountains at an altitude of 3842m, stands proudly the 50m high granite monolith Gendarme des Cosmiques. For the past 30 years it hosted only 2 climbing routes, Digital Crack (8a) and Arête des Cosmiques (8a) -- but this changed on the 10th of August, 2022.
For info and updates go to climbingfilmtour.com.
Masks are recommended but not required.
COVID SAFETY PROTOCOLS CAN BE FOUND HERE.
Film Prices
Lincoln Theatre Members get $2.00 off on the following prices with discount code:
General: $11.00
Seniors, Students, and Active Military: $10.00
Children 12 and under: $8.50
All prices include a $2.00 Preservation Fee that goes directly into our capital account for the preservation of the Lincoln Theatre and its programs.