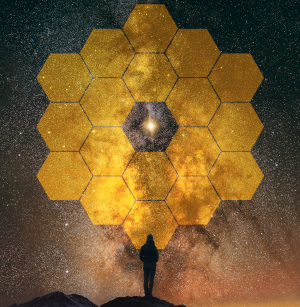 The Hunt for Planet B captures the human drama behind NASA's high-stakes James Webb Space Telescope — the most ambitious space observatory ever built.
The film interweaves the creation of this massive machine with the story of a pioneering group of female scientists on a quest to find life beyond our solar system.
What begins as a real-time scientific adventure turns into a deep meditation on our place in the universe. On the brink of seeing farther out than ever before, we find ourselves looking back at our own imperiled planet with new eyes.
"Humbling, awe-inspiring and frequently head-scratching, like a solar system mobile." —Matthew Anderson, CineVue
"Intriguing… Impressive… The Hunt for Planet B is [a] human story. It reveals a world of thinkers, dreamers and doers that dare to imagine what's out there on exoplanets…" —Forbes
"The film features women from all parts of astronomy, from an engineer on the Webb to… Jill Tarter, chair emeritus of the SETI Institute… who was the inspiration for Jodie Foster's character in the 1997 film Contact…" —The Washington Post
Directed by: Nathaniel Kahn
United States | English | 2022 | Documentary | 93 minutes | NR
PRE-SHOW WURLITZER PERFORMANCE:
Sunday: Glen DesJardins
Monday: Ruth Ann Burley
Masks are recommended but not required.
COVID SAFETY PROTOCOLS CAN BE FOUND HERE.
Film Prices
Lincoln Theatre Members get $2.00 off on the following prices with discount code:
General: $11.00
Seniors, Students, and Active Military: $10.00
Children 12 and under: $8.50
Sunday Bargain Prices:
Sunday showing features Open Captions (subtitles present on screen throughout film).
General: $9.50
Children 12 and under: $8.00
All prices include a $2.00 Preservation Fee that goes directly into our capital account for the preservation of the Lincoln Theatre and its programs.