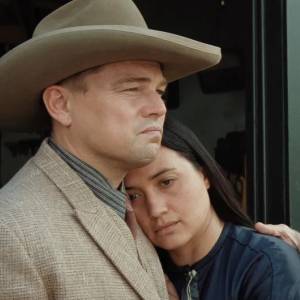 Wednesday, Dec 27, 7:00 pm
Thursday, Dec 28, 7:00 pm
Saturday, Dec 30, 12:00 pm
Saturday, Dec 30, 7:00 pm

Based on David Grann's broadly lauded best-selling book, director Martin Scorsese's latest epic Killers of the Flower Moon is set in 1920s Oklahoma on the tribal land of the Osage Nation. When oil is discovered under the earth, a series of murders befalls the members of the now-wealthy Osage -- a string of brutal crimes that came to be known as the Reign of Terror.
Leonardo DiCaprio stars as Ernest Burkhart, a man torn between his loyalty to his Osage wife Mollie (Lily Gladstone) and his land-baron uncle William Hale (Robert De Niro).
"There's a way of looking at this movie, a colossal tale of the sociopathy of American history, that's a matter of listening to what's said and what isn't. The movie raises the idea of silence to a nearly transcendent pitch of passion." —Richard Brody, New Yorker
Directed by: Martin Scorsese
Cast: Leonardo DiCaprio, Robert De Niro, Lily Gladstone, Jesse Plemons, Tantoo Cardinal, John Lithgow, Brendan Fraser
United States | English | 2023 | Drama, History | 206 minutes | R
Masks are recommended but not required.
COVID SAFETY PROTOCOLS CAN BE FOUND HERE.
Film Prices
Lincoln Theatre Members get $2.00 off on the following prices with discount code:
General: $11.00
Seniors, Students, and Active Military: $10.00
Children 12 and under: $8.50
SATURDAY NOON MATINEE BARGAIN PRICES:
General: $9.50
Children 12 and under: $8.00
Saturday 12:00 showing features Open Captions (subtitles present on screen throughout film).
All prices include a $2.00 Preservation Fee that goes directly into our capital account for the preservation of the Lincoln Theatre and its programs.