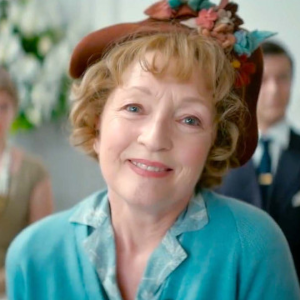 Mrs. Harris Goes to Paris is the enchanting tale of a seemingly ordinary 1950s British housekeeper whose dream to own a couture Christian Dior gown takes her on an extraordinary adventure to Paris.
When widowed cleaning lady Ada Harris (Lesley Manville) falls in love with a Dior dress, and decides that she must have one of her own. After she works, starves, and gambles to raise the funds to pursue her dream, she embarks on an trip to Paris which will change not only her own outlook, but the very future of the House of Dior.
"This mid-century-set treat is as pretty and heartwarming as you can imagine." —Tomris Laffly, RogerEbert.com
"Lesley Manville is a delight in the fairy tale for the working class that reminds us to keep dreaming. Charming." —Joe Friar, Fort Worth Report
Directed by: Anthony Fabian
Cast: Leslie Manville, Jason Isaacs, Isabelle Huppert
United Kingdom | English | 2022 | Comedy | 115 minutes | PG
SUNDAY SHOW IS OPEN CAPTION (subtitles will be present on-screen throughout the film)
SUNDAY SHOW IS OPEN CAPTION (subtitles will be present on-screen throughout the film)
PRE-SHOW WURLITZER PERFORMANCE:
Friday: Harvey Rossiter
Saturday: Fred Beeks
Sunday: Glen DesJardins
Monday: Ruth Ann Burley
Masks are recommended but not required.
COVID SAFETY PROTOCOLS CAN BE FOUND HERE.
Film Prices
Lincoln Theatre Members get $2.00 off on the following prices with discount code:
General: $11.00
Seniors, Students, and Active Military: $10.00
Children 12 and under: $8.50
Sunday Bargain Prices:
Sunday showing features Open Captions (subtitles present on screen throughout film).
General: $9.50
Children 12 and under: $8.00
All prices include a $2.00 Preservation Fee that goes directly into our capital account for the preservation of the Lincoln Theatre and its programs.