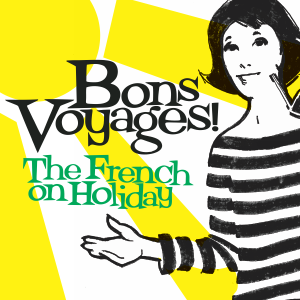 Every Tuesday in May, join us at the Lincoln Theatre for our latest Lincoln Film Series: Bons Voyages! The French on Holiday.
As the days grow longer and the sun comes out, everyone loves to take a vacation -- and no one loves it as much as the French!
With so many places to go and people to see, holidays in France can result in bucolic beauty, elbow-to-elbow comic adventure, or -- occasionally -- murder.
Start your summer early -- every week at the Lincoln!
May 2 - Monsieur Hulot's Holiday (1953, 83 minutes, not rated -- G equivalent)  
Comic genius Jacques Tati wrote, directed, and stars in this classic comedy as his beloved character Monsieur Hulot. When the good-natured but naive M. Hulot decides to head to a beachside hotel for a vacation, he accidentally causes havoc everywhere he goes.
May 9 - Purple Noon (1960, 118 minutes, rated PG-13)  
The impossibly handsome Alain Delon stars in this sun-drenched film noir, based on Patricia Highsmith's novel The Talented Mr. Ripley. Tom Ripley (Delon) attempts to convince spoiled playboy Philippe Greenleaf (Maurice Ronet) to return to the United States at the behest of his father -- but Tom soon decides to direct his considerable talents in other directions. Directed by master filmmaker René Clément, at the top of his game.
May 16 - My Father's Glory (1990, 105 minutes, rated G)  
A matched set from director Yves Robert, based on the affectionate childhood reminiscences of Marcel Pagnol, one of the greatest writers of the 20th century. In My Father's Glory, young Marcel and his family take a summer vacation in the hills of Provence, in the South of France, and Marcel befriends Lili, with whom he explores the countryside. 
May 23 - My Mother's Castle (1990, 98 minutes, rated PG)  
In My Mother's Castle, the sequel to My Father's Glory (last week's film in our series), the family returns to Marseilles but Marcel still yearns for the hills. His wish is granted when they return for the Christmas holiday, much to Marcel's delight. Although only a few kilometers outside Marseilles, the journey to the holiday home is time-consuming as public transport takes them only a short portion of the way and the rest is a walk along a long, winding road.
May 30 - Lost in Paris (2017, 83 minutes, not rated -- PG-13 equivalent)  
Coming full circle, Lost in Paris returns to the style of gently chaotic humor championed by Monsieur Hulot himself. When Fiona (Fiona Gordon) -- determined but somewhat hapless -- travels to France to be with her aged aunt Martha, she discovers her aunt is missing and, after a tumble into the Seine, her belongings are lost. Dom (Dominique Abel), living in a tent by the river, discovers Fiona's backpack, and the two of them begin a dance that might just bring everyone home. Written and directed by Fiona Gordon and Dominique Abel.
Film Prices
Lincoln Theatre Members get $2.00 off on the following prices with a discount code:
General: $11.00
Seniors, Students, and Active Military: $10.00
Children 12 and under: $8.50
All prices include a $2.00 Preservation Fee that goes directly into our capital account for the preservation of the Lincoln Theatre and its programs.